Overview
Bring your film, slides and negatives into the digital age with the help of the Magnasonic Film Scanner. This digital slide converter delivers outstanding 22 megapixel quality and takes just seconds to scan and archive each memory you want to preserve. You can even fine-tune your photos right on the built-in, full color LCD screen without the need to learn and use complicated image editing software.
Wide Range of Film and Slide Compatibility
This versatile digital scanner turns your treasured photos into superior high resolution 22 megapixel jpegs. With just one button, you can quickly scan and convert 35mm negatives, 126KPK film, 135 film, 110 film, Super 8 film, slides and negatives into premium quality digital files.
LCD Screen for Instant Viewing
Instantly view your scanned photos directly on the Magnasonic Film Scanner with its built-in vibrant 2.4 inch LCD screen. Or if you'd prefer, use the included Video Out TV cable to view on a larger screen and reminisce in timeless memories with friends and family.
Excellent Memory and Storage Potential
Boasting 128MB of built-in memory, easily store up to 100 photos until you're ready to share with friends and family. Use an optional SD card (up to 32GB) to collect even more photos directly onto the scanner until you're ready to transfer elsewhere.
Fast Scanning Potential
Save time and effort with the included fast-loading film trays. Super quick 5 second scanning lets you get through that pile of film, negatives, and slides in no time at all.
All-In-One
There's no need for a computer when you can edit brightness, rotation and more directly on the all-in-one film scanner. Choose one of the pre-installed film profiles for a more accurate color rendition and eliminate the need for expensive editing software.
Specifications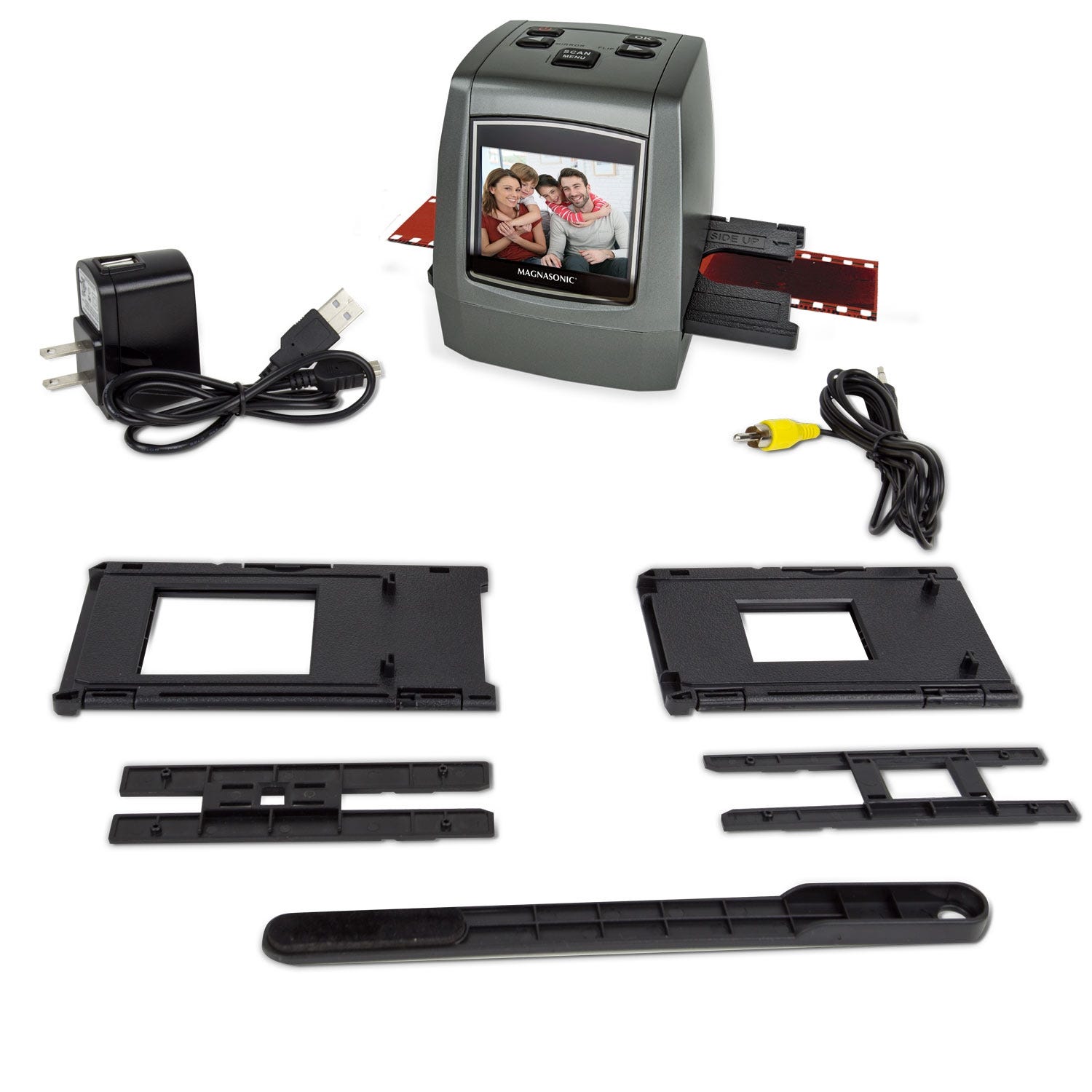 Display
2.4" Color TFT LCD
Focus Range
Fixed Focus
Exposure Control
Automatic / Manual (-2.0 EV~ +2.0EV)
White Balance
Automatic
Recording Resolution
14 Megapixels / 22 Megapixels (interpolation)
Scan Quality
3200 dpi & 4000 dpi (interpolation)
Picture Aspect Ratio
3:2
Scan Method
Single Image Scanning
Film Type
35mm film (36x24 mm), 135 slide (2x2"), 110 film (13x17 mm), 110 slide (2x2" and 1x1"), 126 film (28x28 mm), Super 8 film (8x4 mm)
Picture Effects
Black & White, Slides, Negatives
Light Source
LED Back Light
File Format
Picture : JPEG
Image Playback
Single
TV Out Type
NTSC/PAL
Built-In Memory
128MB (100 MB usable)
External Memory Card
Up to 32GB SD Card
Scan Speed
3-5 seconds
Language
English/French/Spanish/Simplified Chinese/ Traditional Chinese/German/Italian/Japanese
Dimensions
4.0 x 3.4 x 3.4 inches / 101.6 x 86.4 x 86.4 mm (HxWxD)
Weight
0.66 lbs
Power Supply
DC 5V (USB Adapter)
Manufacturer's SKU
FS50
Certifications
FCC, RoHS, CE, UL/CUL
UPC
061783262061
What's Included

Film scanner
USB Cable
Video Out TV Cable
AC/DC Adapter
Negative Film Holder
Positive Film Holder
110 Film Holder
Super 8 Film Holder
Cleaning Brush
User's Manual
Lifetime Customer Support
1 Year Manufacturer's Direct Warranty
Customer Reviews
Richard

November 9, 2019

Indiana, United States

It would be nice to have an viewer that would eliminate a lot of extra steps in order to transfer pictures to the computer. I greatly appreciate Julie in your company that has stuck with me to assist an old man that does not understand a lot about this kind of thing. She took me through step by step and got me going. Thank you Julie

Richard

4

julie b

September 30, 2019

Are used this product to look at old 8 mm movies. It was very hard to use the pictures were horrible would not recommend

julie b

1

Daniel G

September 26, 2019

I have only ever used this with 35mm slides but it's really quite remarkable the quality of image this scanner can achieve from such a small source. One must bear in mind that the scanned image (prior to digital enhancement) is only as good as the original. Keep a can of air and a lens cleaning cloth handy. Cons: The screen would greatly benefit from being tilted back at an angle that would direct more toward the users eye. Also, the menu system is a bit clunky but manageable. However, these are both small matters and quite easily managed. Overall an excellent purchase and well worth every penny.

Daniel G

5

Phil G

September 25, 2019

After my slide projector died and a flooded basement could have ruined my slide collection, I decided it was time to digitize the slides I wanted to keep. I looked at a few scanners and probably would have gone with a Kodak if I had more slides, but decided to save some money instead. The quality of the digitized photos doesn't really blow me away, but part of that might be the quality of the original slides (we were and are amateur photographers at best). I will be using photo editing software to improve photo quality.

Phil G

4

Amazon Customer

September 25, 2019

I have this plugged in via a Macbook Air. Although the directions are simple, I found bringing images to my laptop to be difficult and sometimes impossible. If this was a store I'd wrap it up and take it back. As it is, I'll just go to Walmart int he future and get my slides converted. A waste of money and I'm somewhat technically knowledgeable.

Amazon Customer

2

Raihan U

September 25, 2019

Awesome

Raihan U

1

Pamela J

September 24, 2019

I couldn't wait to use my slide viewer. When I opened it up, there were so many parts to handle so many different films. All I was looking for was a viewer to look at hundreds of old 35 mil. slides. Not one of the slide holders fit exactly my size slide. I made it work but it is clumsy. As I was looking at slides, the machine all of a sudden shuts off. The machine is plugged into the wall so it shouldn't all of a sudden, in the middle of using it, shut off. Once I turn it on again, you have to go through the menu to get to the film size to view again. I was hoping it would have been easier to use since I paid over $80 for this little contraption. Not very happy with it.

Pamela J

3

Larry K

September 21, 2019

I like the fact that the scanner is small and easy to use. I scanned some old slides from the mid 70s. Most of them generated some great digital photos, which I shared on FaceBook.

Larry K

5

Ron A

September 17, 2019

Compact and simple to use. Once you get a rhythm going you can process your pictures pretty quickly. Exposure adjustment works well. Quality of images is quite good. One caution: when using the cleaning brush, insert it brush side down. If you don't, it can get stuck inside the device.

Ron A

5

Thurstan N

September 17, 2019

At first I thought it wasn't scanning at its best until I realized the negatives I used were flawed, overall great product, used it recently for one of my projects and was quite amazed! Recommended!

Thurstan N

5

Jess T

September 16, 2019

great

Jess T

4

Amelia

September 13, 2019

Slide sort of underexposed

Amelia

5

Kyle K

September 12, 2019

The quality of the original print determines how the final product comes out. If the original was blurry, then the copy will be blurry. Great product for the price

Kyle K

5

ijustwantthecamera

September 10, 2019

There was one spec of dust on the inside that was showing up on my negatives, and when I used the tool it comes with to clean the inside, it left 20 tiny hairs on the glass inside. So now instead of having to worry about a spec of dust there are 20 small hairs that will ruin my negative scans. How is the cleaning product it came with going to make a bigger mess? ):< Despite what I try, I can't get the hair out so this product is pretty useless now.

ijustwantthecamera

1

michael w

September 10, 2019

a must for negatives

See all reviews

michael w

5