Overview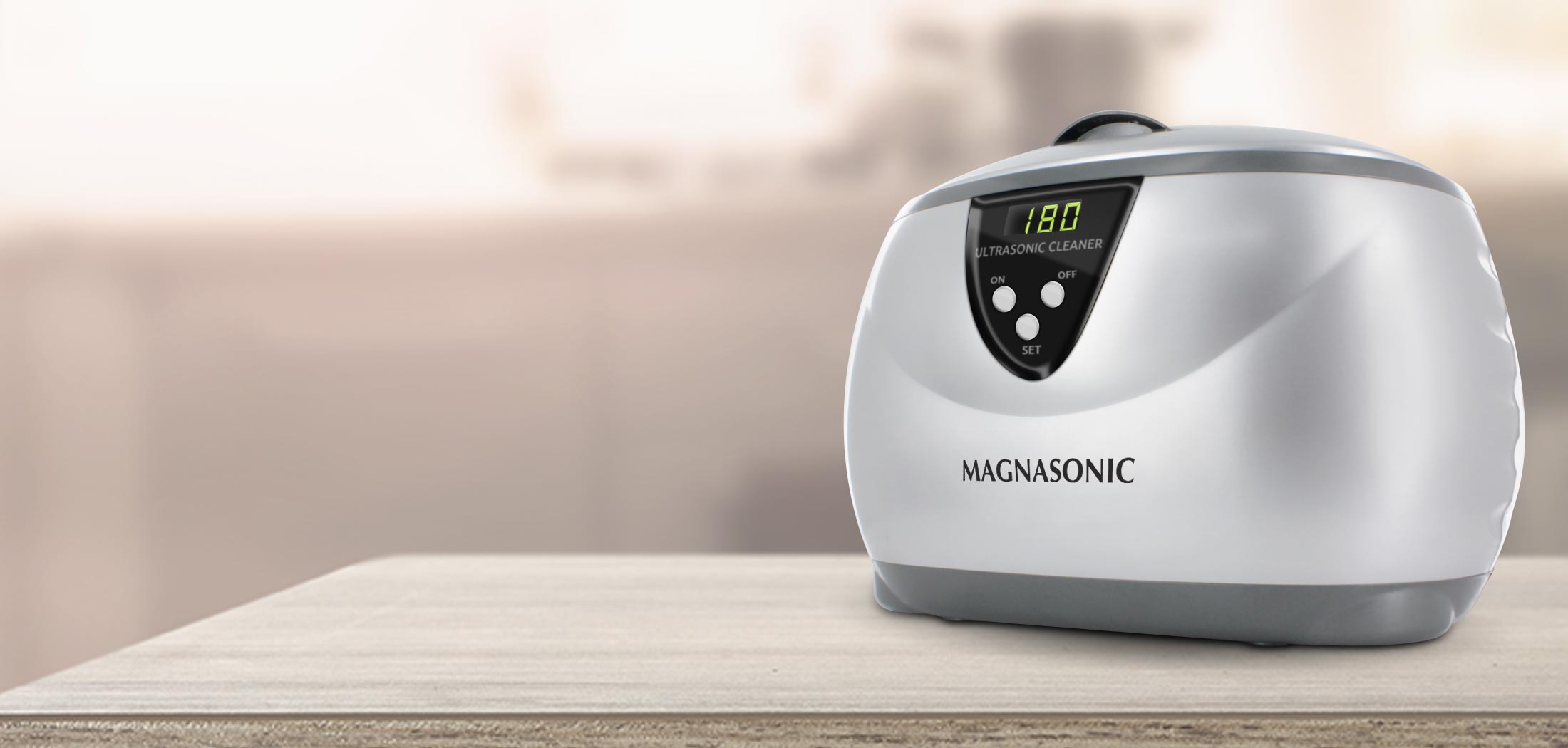 Digital Ultrasonic Jewelry Cleaner
Make your wedding ring glisten just as beautifully as it did on your special day. The MAGNASONIC® Digital Ultrasonic Jewelry Cleaner will restore your valuables to their former glory. Using only water, this cleaner generates 42,000 Hz of ultrasonic waves that gently remove dirt and grime in minutes. There are five preset cleaning cycles to choose from, so you can easily control the cleaning intensity you need. You'll get professional results on jewelry, eyeglasses, dentures, razor blades, utensils and so much more. Great for business, commercial or home use, this ultrasonic cleaner will have your items looking brand new again.
Cleans dirty jewelry, eyeglasses, watches, utensils and more
You won't believe how your items will shine with just water! Simply fill the tank with water, insert your items, and you'll see professional jewelry cleaning results. A bit of liquid hand/dish soap can be added for enhanced cleaning, but all the work is done by the ultrasonic waves. This powerful unit cleans in minutes without damaging delicate items. So whether it's your dirty everyday items or priceless treasures, the MAGNASONIC® Digital Ultrasonic Jewelry Cleaner will safely make them sparkle again.
Ultrasonic sound waves for a deep and gentle clean
This powerful cleaner packs a gentle punch. 42,000 Hz of ultrasonic energy waves create millions of microscopic cleansing bubbles that gently lift dirt and grime away without using harsh chemicals or scrubbing. The motion of the water may look mild, but it's actually producing a deep and thorough clean to penetrate the most difficult areas.
Digital display with 5 preset cleaning cycles and auto shut off
There are 5 different cycles to choose from (90, 180, 280, 380, & 480 seconds), depending on the cleaning time you require, for easy and precise control. Just select the desired time and watch the digital display count down to the end of cleaning and then automatically shut off.
Extremely easy to operate
The MAGNASONIC® Digital Ultrasonic Jewelry Cleaner is instantly ready for use. Select your cycle and it's ready to go with the push of a button. Insert your items either directly into the chamber or use the convenient basket for more delicate items.
Generous 20 oz (600mL) capacity
The stainless steel chamber holds 20 oz (600 mL), with interior dimensions of 5.4" L x 3.6" W x 2.1" H, allowing you to fit a wide assortment of items into the chamber for professional cleaning.
Specifications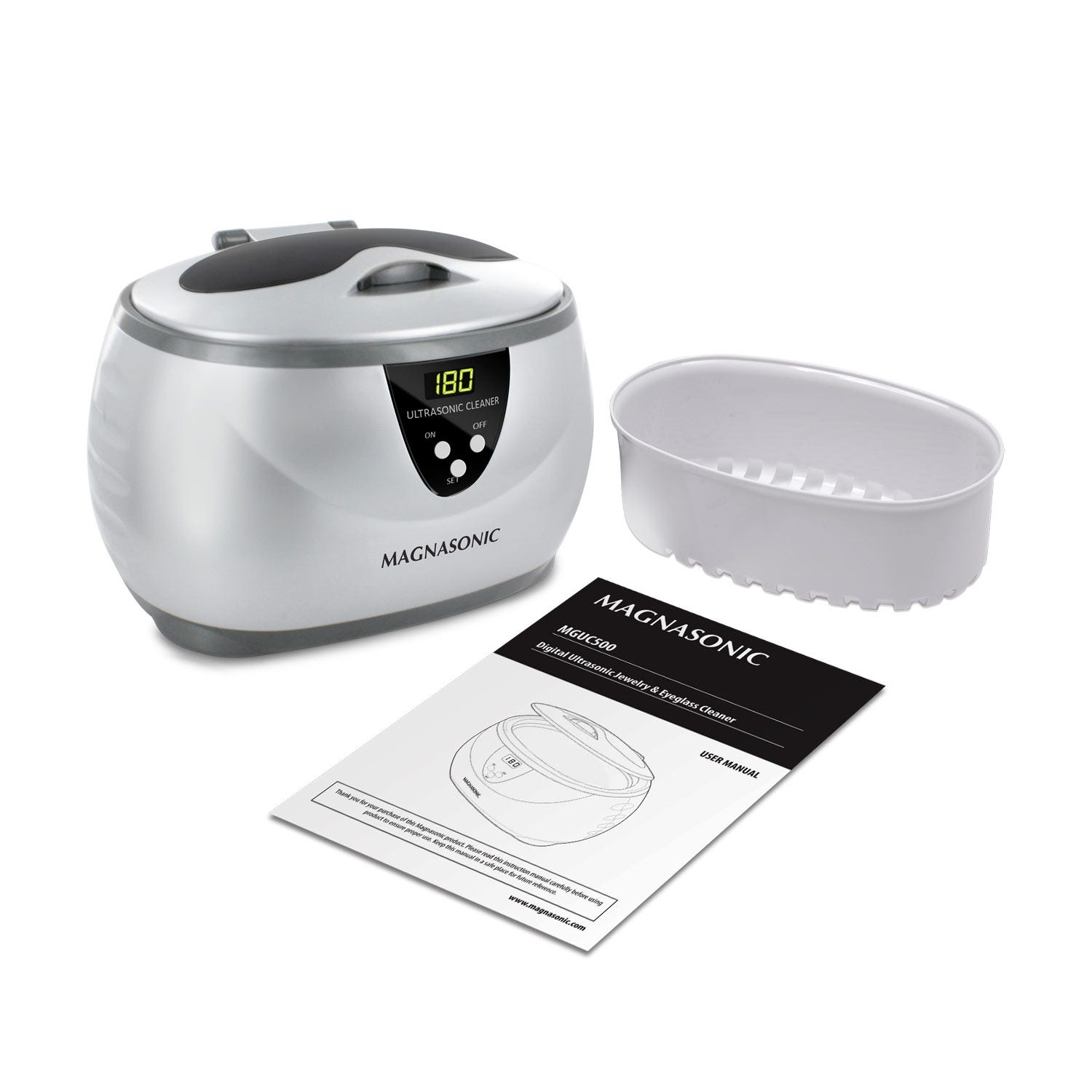 Tank Capacity
20 oz (600 ml)
Cleaning Cycles
5 Presets - 90/180/280/380/480 seconds
Tank Material
Stainless Steel
Power Input
AC 100-120V, 60Hz, 35W
Ultrasonic Frequency
42,000 Hz
Display
Digital
Frequency
433.92 MHz
Cleaning Technology
Ultrasonic Waves
Automatic Shut Off
Yes
Dimensions (External)
8.2 (L) x 5.8 (W) x 5.4 (H) inches
Dimensions (Internal)
5.4 (L) x 3.6 (W) x 2.1 (H) inches
Weight
2.2 lbs
Certifications
FCC, ICES, cETL/ETL
UPC
871363021090
What's Included

Ultrasonic Jewelry Cleaner
Cleaning basket
Instruction manual
1 Year Manufacturer's Direct Warranty
Lifetime Customer Support
Customer Reviews
DeeD

February 23, 2019

Louisiana, United States

My jewelry is cleaner than it's been in years. Almost like sending it to the jewelers

Pamela S

January 17, 2019

Pennsylvania, United States

I'm amazed at how well this works. After cleaning my rings & sterling silver necklace with charms that I usually wear there was a good amount of dirt settled to the bottom. It cleans the sterling silver better than a polishing cloth!

Reneta B

January 1, 2019

Colorado, United States

Even on the longest setting and with Dawn added to the water, the machine removes surface dirt on jewelry only. Tarnished jewelry remains tarnished. Really a disappointment.

Christina F.

December 31, 2018

Colorado, United States

I got this for my husband for Christmas and he spent an entire day using it for various things he wanted to clean and it worked well for him! He's excited to have it.

John H

December 29, 2018

Ontario, Canada

Product works great and delivery was very prompt!

Denise, L

December 28, 2018

Massachusetts, United States

My glasses were spotless. Highly recommend this product.

Steve

December 27, 2018

Nebraska, United States

Best cleaner I have ever used

Vee T

December 26, 2018

Quebec, Canada

I am fully satistfied of my purchase. My glasses are so clean, that I feel like there are new.

Bob M.

November 27, 2018

Ontario, Canada

I never could get my eyeglasses spotless. I bought this to rectify that problem. It works beautifully. Strongly recommend this product.

Lisa I.

October 15, 2018

Virginia, United States

This is a cool little jewelry cleaner and it makes my jewelry sparkle. My first one stopped working after one use and I contacted customer service. Darrielle responded promptly and politely - they sent a new one and just asked me to hold on to the old one in case they needed to check it. Great customer service!