Overview
MINI FRIDGE COOLER & WARMER
Enjoy cool drinks and warm snacks on the go thanks to the Magnasonic Mini Fridge with both cooling and warming functions. Its thermoelectric technology heats and cools with just the flick of a switch, no Freon needed. With its 4L capacity, you can easily store bottled water, soda cans, sandwiches, soups, fruit, snacks, and even medication. Compact and lightweight, conveniently use it in your car or office with included power cables.
2-in-1 Heating & Cooling Function
If you want to enjoy a cold, refreshing beverage after a day in the hot sun, the cooling function chills to 36 degrees cooler than ambient temperature. You can also reheat your coffee, tea, or leftovers; the heating function warms up to 131 degrees Fahrenheit (55C). Useful in hot or cold weather, and even on its side thanks to its Freon-free thermoelectric technology.
Perfect Companion for a Day of Fun
With its large 4L (1.1 gal) capacity (6 x 12oz cans or 4 x 500 ml bottles), this portable mini fridge offers plenty of space for drinks and snacks. It's a convenient and healthy alternative to fast food while travelling. Stock up for a week at the office or your next road trip away from home. The built-in handle and lightweight design lets you keep your favorite beverages cold, no matter where life's adventures take you.
USE IT ANYWHERE WITH 110V OR 12V POWER SOURCES
Use the 110V AC wall outlet in your home, office or the 12V DC cigarette lighter in your vehicle. Perfect for camping trips with friends, family boat expeditions, student dorm rooms, and even your cubicle at work.
FEATURES
Environmentally Friendly – Freon-free, no need for harmful refrigerants
Convenient – Carrying handle, removable shelf, and easy to clean interior
Fully Insulated – Energy efficient, will maintain temperature without power
Durable Design – Heavy duty locking latch, secure door hinge, non-slip feet
Low Noise Fan & Vibration Free – Quiet enough for bedroom use (no compressor)
Specifications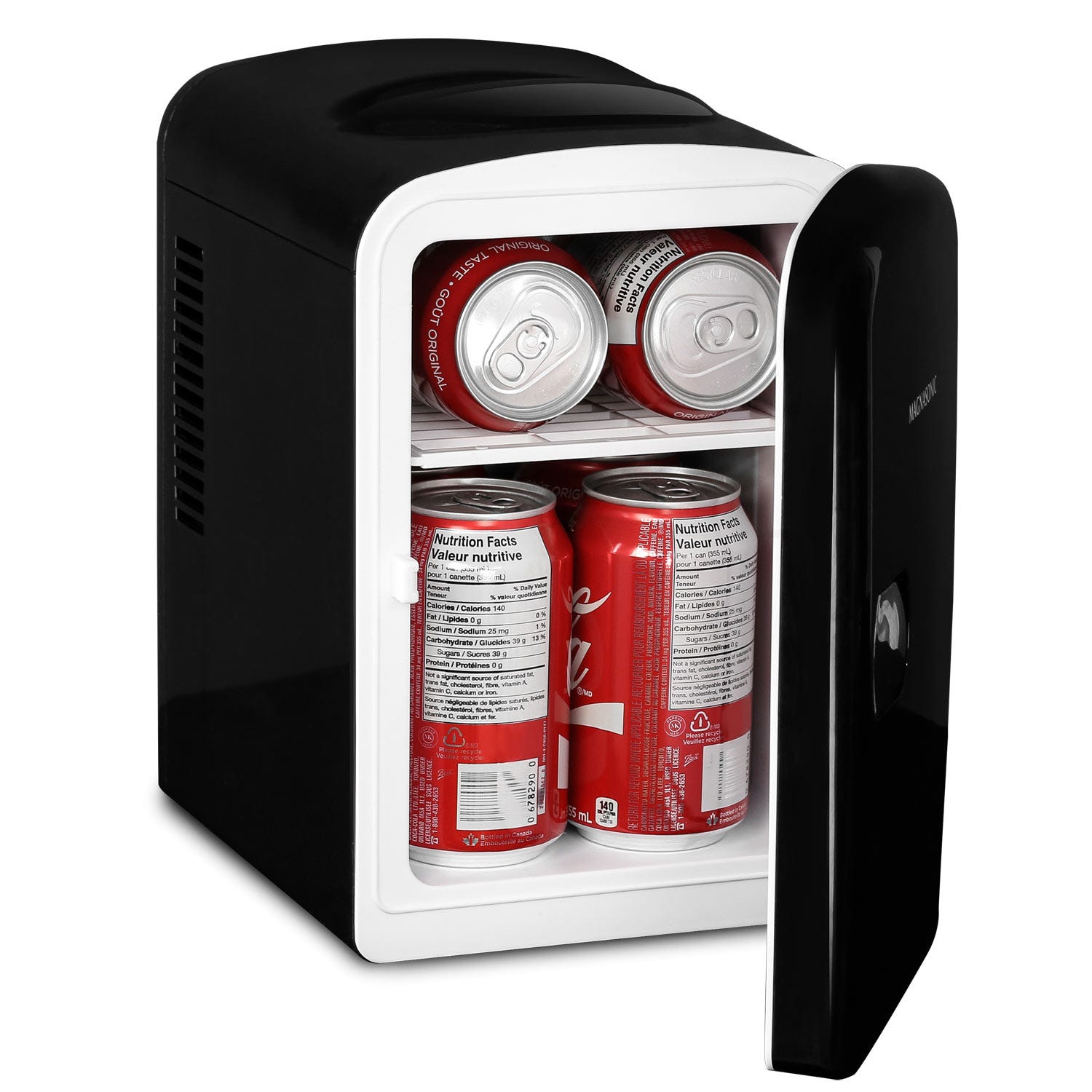 POWER CORD Length
AC Power Cord: 48.8 inches
DC Power Cord: 80.7 inches
Warming Temperature
Up to 131 degrees Fahrenheit (55C) – thermostat protection protects overwarming
Cooling Temperature
36 degrees Fahrenheit (20C) below ambient room temperature
Power Supply
Warming: DC 12V – 32W, AC 110V – 40W
Cooling: DC 12V – 40W, AC 110V – 45W
Volume Capacity
4L/1.1 gal (6 x 12oz cans)
Fan
Internal circulations, brushless motor, long life
Dimensions (Internal)
8.5 (H) x 5.8 (W) x 5.4 (D) inches
Dimensions (External)
10.5 (H) x 9.8 (D) x 7.2 (W) inches
Weight
4.4 lbs.
Certifications
cETL/ETL, FCC, ICES
What's Included

Mini Fridge
110V AC wall adapter (48.8")
12V DC car adapter (80.7")
Removable Shelf
User's Manual
1 Year Manufacturer Direct Warranty
Lifetime Customer Support