Overview

Enjoy Movies, Songs and Photos
Enjoy your media — anytime, anyplace — on a 7" LCD screen. Files from USB or SD, CDs, DVDs, and radio are all right at your fingertips. Watch a slideshow of your digital photos, play a CD, watch a MP3 video, then move on to a movie. All your entertainment needs are here in one convenient, accessible system.
Karaoke
Take traditional campfire singing to a whole other level with this boombox's karaoke feature. Insert a karaoke CD+G and the lyrics will display on the screen. There's also an audio-in jack for a microphone — everything you need for proper karaoke fun, wherever you may be!
Standard DVD functioning
Enjoy all the functioning you would expect from a DVD player, including scene search, color/brightness adjustment, multi-angle viewing, subtitles, audio soundtrack language options, onscreen display and parental controls. Also comes with a remote control for easy system access.
Stereo-Quality Speakers
It may be portable but you won't sacrifice an ounce of sound quality with the Magnasonic CD/DVD Boombox. You'll enjoy bass boost and surround sound with this stereo-grade system. So watch movies, listen to music and sing your heart out – all with amazing audio.
Convenient Portability
Time to hit the road. Designed for durability, with solid housing and a sturdy carrier handle, and powered by either AC adapter or 8 "C" batteries (not included), you can enjoy all your media wherever the road may take you.
Specifications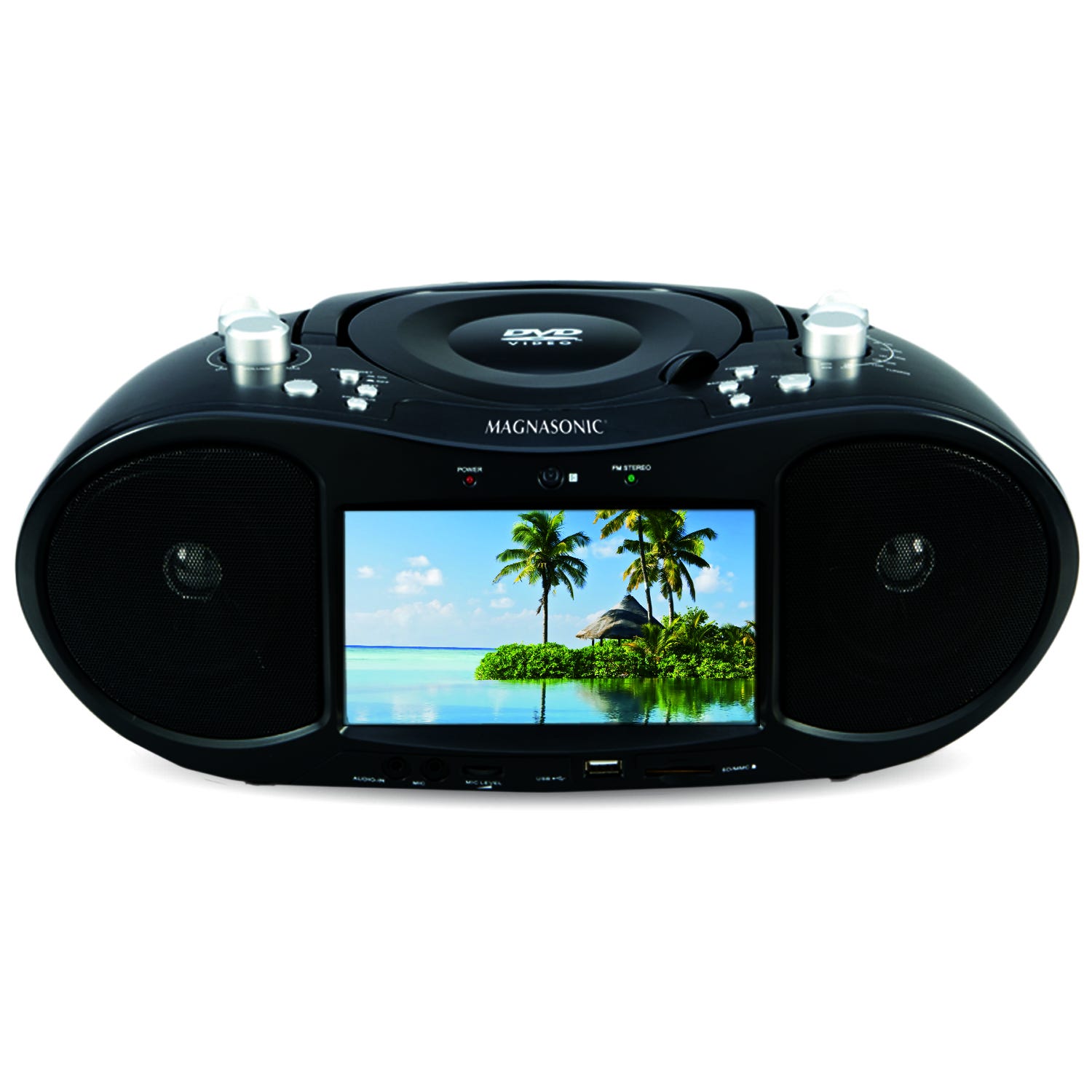 Playable Disc Format
DVD/DVD+/-R/RW; CD/CD-R/RW; CD-G karaoke CD
Unit Color
Black & silver
Media Ports
USB 2.0; SD/SDHC/MMC card slot
Auxiliary Input
No
Microphone Port
3.5mm audio input jack
Audio Output
1 RCA composite video out jack; 2 RCA audio out jacks (L/R)
AC Power
120V/60Hz (non-switching adapter)
Battery Requirements
8 "C" Type Batteries
Dimensions
9.3 x 16.0 x 5.9 inches
Weight
6.3lbs
Manufacturer's SKU
MAG-MDVD500
UPC
061783037546
What's Included

Magnasonic Portable CD/DVD Player Boombox with 7" Widescreen LCD
Remote Control
RCA Audio/Video Wire (male)
AC Cord
Instruction Manual
1 Year Manufacturer's Direct Warranty
Customer Reviews
Jaime D

October 11, 2018

Colorado, United States

Superb device! Great value and a big bang for the buck!

Jaime D

5