Overview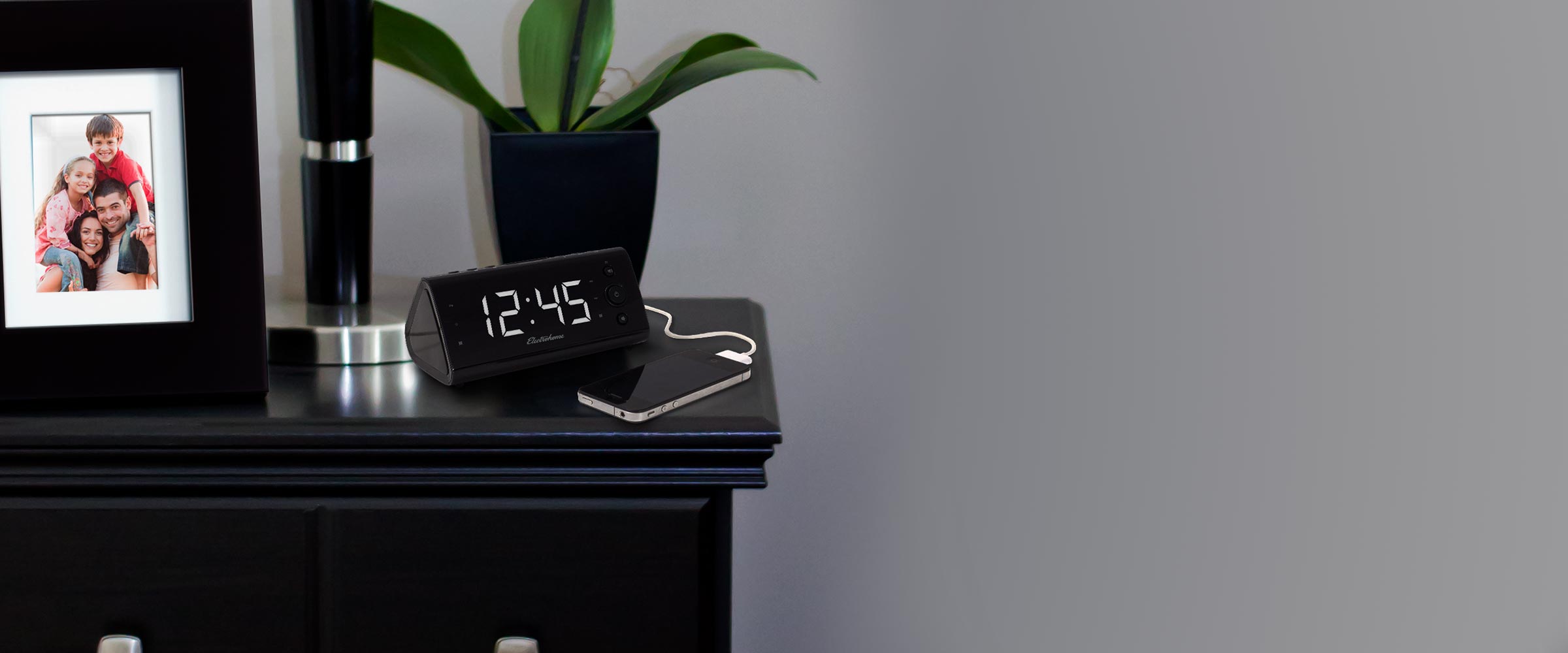 USB Charging Alarm Clock Radio
Charging your essential electronic devices with this USB Charging Alarm Clock is so easy that you can literally do it in your sleep. This and a collection of other innovative features, including automatic time set, long lasting battery backup, programmable dual alarm, and digital radio tuner, make this one reliable clock radio you can depend on.
Easily Charge Your Devices as You Sleep
Whether you spend your day sending work emails to colleagues, texting your friends, or watching videos, devices like smartphones and tablets might be a big part of your life. Make sure your smartphone or tablet is charged by plugging into this alarm clock radio via a USB cable before going to bed. The compatibility of this alarm clock means that the days of searching for a wall charger or available outlet for your smartphone, tablet, smartwatch, or any other USB device are over.
Be on Time, Every Time
If one of your biggest fears is oversleeping because your power goes out, this clock is the solution. Never worry about missing a morning appointment or being late for work again. The built-in battery backup automatically activates when the power is cut off from your wall outlet. Your alarm will still sound according to your settings while the correct date & time is maintained. Rest assured knowing your alarm clock will have power even when the rest of your home does not.
Get Set Up in Just Minutes
Ever catch yourself wondering if you'll forget Daylight Savings Time (DST) again this year? When you first plug in your clock radio and specify your time zone, DST will be automatically updated every spring and fall.
Wake Up to Your Favorite Tunes
What would a radio alarm clock be without access to great music? This digital radio supports up to 20 programmable AM or FM stations, giving you access to your favorites tracks at the touch of a button. The digital tuner gives you the best possible reception and sound quality by locking in on the strongest point of your favorite AM/FM radio signals.
Specifications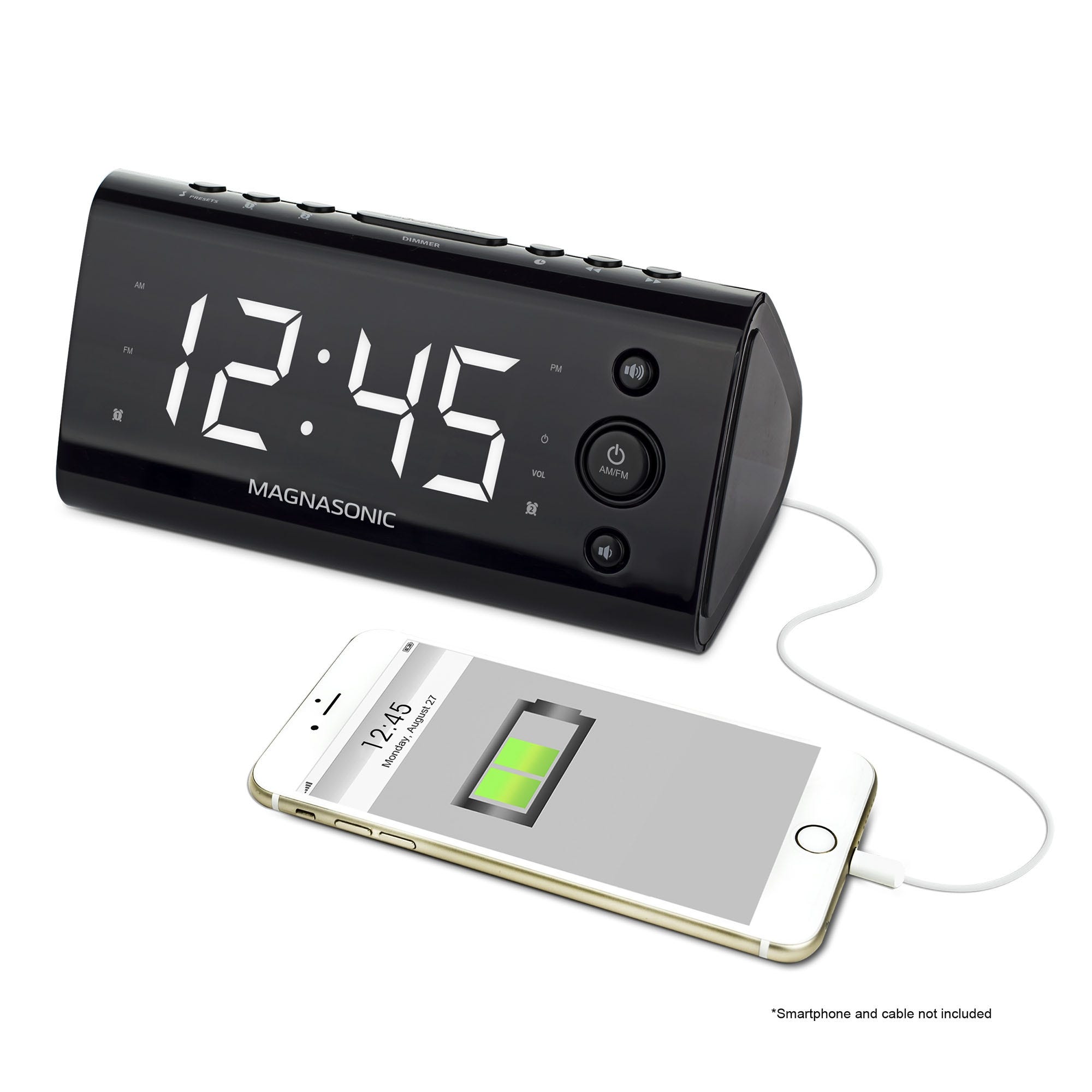 Display Size
1.2"
Display Colour
White LED
Automatic Time Setting
Yes
Sure Alarm
No
Wake Up
Yes
Battery Back-up for Time
Yes
USB Charging
Yes
PLL Digital Radio Tuner
Yes- AM/FM
Radio Station Pre-sets
Yes 10 AM/ 10 FM
Dual Alarm
Yes
Calendar Display
Yes
Indoor Temperature Reading
Yes
Adjustable Brightness
off, low, med, high
Sleep Timer
Yes
Battery Required
Lithium, Included
USB Charging Output
Single, 1.0A (5.0W)
Speaker Size
1.5" 0.5W, 8 Ohms
Volume Indicator LED
Yes- numerical display of volume value
Power Input
AC 100V-240V 50- 60 Hz
Audio Inputs
No
Frequency Range (AM)
520 - 1710 kHz
Frequency Range (FM)
87.5 – 107.9 MHz
Power
DC5V 1500mA
Battery Backup
1 x 3V, CR2032 Flat Lithium battery (Included)
Projection Swivel Tilt
No Projection
Number of Alarms
2 - with optional weekend skip
LCD Screen Size
4.0"
Alarm Options
Radio / Buzzer
Projection Flip
No
Projection Focus
No
Time/Date Restore
Auto - after power loss (WakeUp Technology)
Dimensions
3.1 x 6 x 3 inches / 78.7 x 152.4 x 76.2 mm (HxWxD)
Unit Weight
.75 lbs.
Unit Color
Black
Certifications
ICES, FCC Certified, ETL/CETL, NRCan
UPC
061783260555
What's Included
USB Charging Alarm Clock Radio
Instructional Manual
Quick Start Guide
1 x 3V, CR2032 Flat Lithium battery
5ft 100-240V AC/DC Power Adapter
Customer Reviews
Whateva

September 25, 2021

Time projector in nice. Clock display can be dimmed to off. Auto tmie set worked (not sure how).

Whateva

5

Brad

September 2, 2021

I use this to tell the time and charge my cell phone.

Brad

5

Patrick

September 2, 2021

First the positive.It is nice looking and has large display.It has a USB port for charging.The negative.USB port for charging is on the back, not easy to access.The buttons are awkward, small and badly labeled.The instructions are done poorly.It is overly complicated.No way to set alarm on/off goes off daily. (I will play with it later, but again directions are done extremely poor).No way to adjust Bell level, just the radio level.When the alarm goes off it is hard to turn off. (small button)

Patrick

1

Terry G

August 9, 2021

did not care for it

Terry G

2

TRB

August 8, 2021

white led display is easy to read

TRB

4

Jeannette

August 6, 2021

Very attractive but the directions are hard to read. I still haven't figured it out yet, but I'm working on it.

Jeannette

4

Toby R

August 1, 2021

Couldn't get radio to work correctly.

Toby R

2

salsy

July 16, 2021

Has 2 alarm settings although only alarm 1 works. Alarm 2 never goes off and was late because of this. Will not buy again

salsy

1

LT

July 7, 2021

Radio quit working 6 months of partial use.

LT

1

Josie's mom

June 28, 2021

I really like this clock radio. Takes a bit to read all the instructions because there are so many features on it. I got it mostly for the clock and radio & may not need the dual alarms. Like the ability to dim the numbers so they don't have to be so bright for use in a bedroom at night. So far so good. Good price also.

Josie's mom

4

jm

June 19, 2021

Easy to read, but way too bright - even on lowest

jm

3

ricknokc

June 19, 2021

Love it. The snooze button could be better. Dual alarms that can be set on different days as well as different times. Digital tuner is why I replaced my old alarm.

ricknokc

4

StrawberryJam

June 15, 2021

Looks good, works well. Alarm instructions are a bit vague, but after a couple of days of wrong settings I got the hang of it.

StrawberryJam

5

Mountain W

June 11, 2021

This replaced a bigger model I'd used for about 10 years and is an improvement. I looked carefully online to compare features, and this is the only alarm clock I found with everything I wanted: compact size and ergonomic design, dimmer light on the readout, easy to use settings, an exterior antenna cable, a USB port, and a color and look that didn't call attention to itself on the bedside table. The ergonomic design makes it easy to reach over when it's dark and find the power and volume buttons for the radio. Radio reception with the antenna is fine, and I live in a mountainous area with spotty reception. I really like the separate buttons for up/down volume control. One reviewer mentioned the quietest setting isn't that quiet, but I found it to be fine. I don't bother with writing reviews unless something is particularly good or bad, and this warrants the time to give it a 5-star review. Very satisfied.

Mountain W

5

Melanie B

June 8, 2021

Nice little alarm clock! I like that it has 2 alarms that can be set for different days and schedules. The room temperature gauge seems to be pretty spot on and the radio is pretty clear when my alarm goes off. Charges my phone quickly and is easy to dim. Great purchase!

See all reviews

Melanie B

5