Overview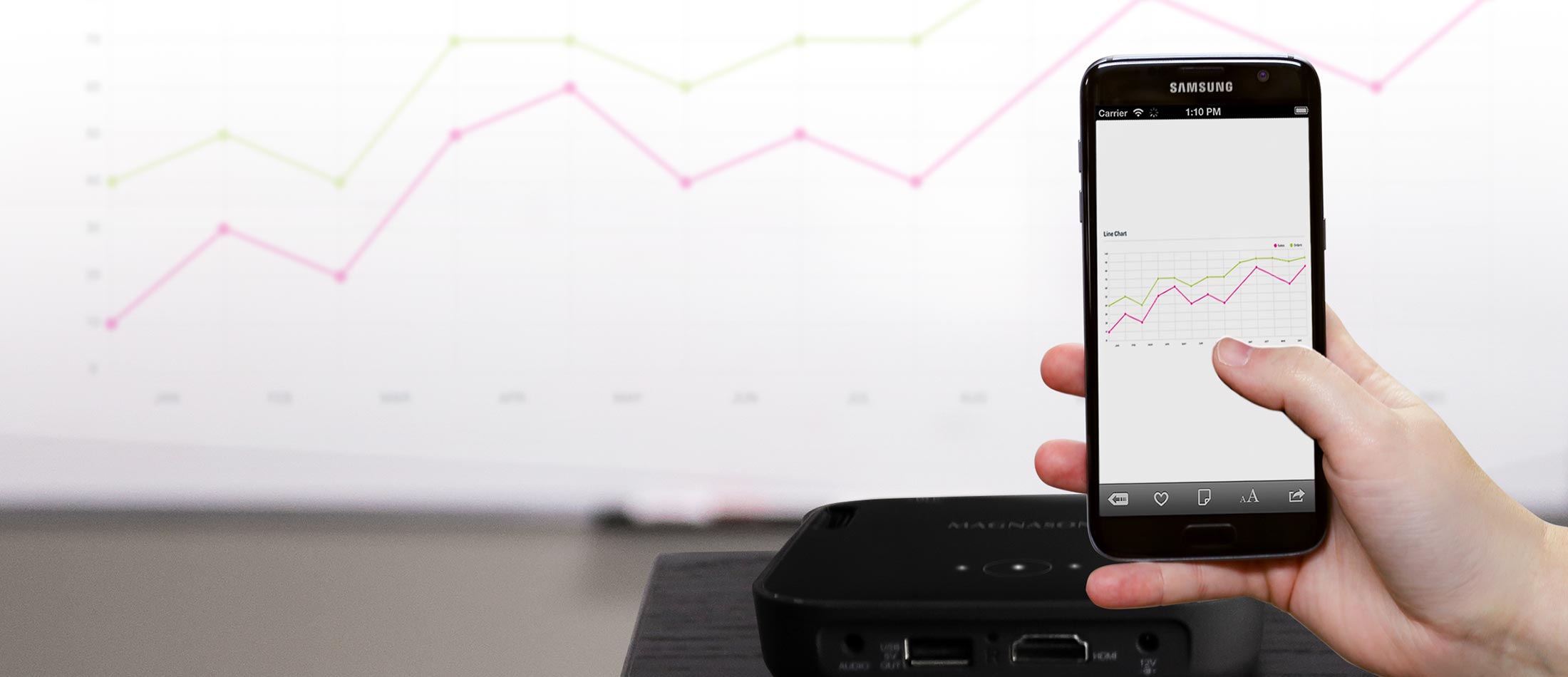 Wi-Fi Mini Video Projector
Enjoy your favorite TV shows, movies, video games & presentations anywhere, anytime with the Magnasonic Wi-Fi Portable Video Projector. Connect wirelessly over the projector's built-in Wi-Fi function using your Android smartphone/tablet or use the included HDMI cable to connect your laptop, streaming media player & more. Apple devices require an adapter – sold separately.
Wireless Wi-Fi Connectivity for Android
No need for messy wires or inconvenient setup. Wirelessly stream from your Android device in seconds with the projector's built-in Wi-Fi function (no app required). Enjoy crystal clear videos & a large display up to 80" in size.
Convenient HDMI Plug & Play Connection
The Magnasonic Portable Video Projector comes with an HDMI cable & micro HDMI adapter to easily connect to your laptop, PC/Mac, cable/satellite box, gaming console, media player & HDMI video player (accepts 1080p video input).
Texas Instruments DLP Display Technology
The Magnasonic Projector uses the same high quality Digital Light Processing technology that Hollywood relies on. This projector also features 854 x 480 pixel (WVGA) resolution, 1000:1 contrast ratio, & a bright 100 lumen LED light engine.
Portable Pocket-Sized Entertainment Anywhere
Its Pico design & built-in rechargeable battery (3800 mAh) make it easy to take with you wherever you go. Use it to enjoy a backyard movie night with friends & family, binge watch your favorite TV show at home, take it on your next camping trip, or upgrade your business presentations.
Built in Speakers & Headphone Jack
The Magnasonic Multimedia Projector has two built-in speakers & a 3.5mm headphone jack for personal listening. For bigger sound, simply connect external speakers.
Specifications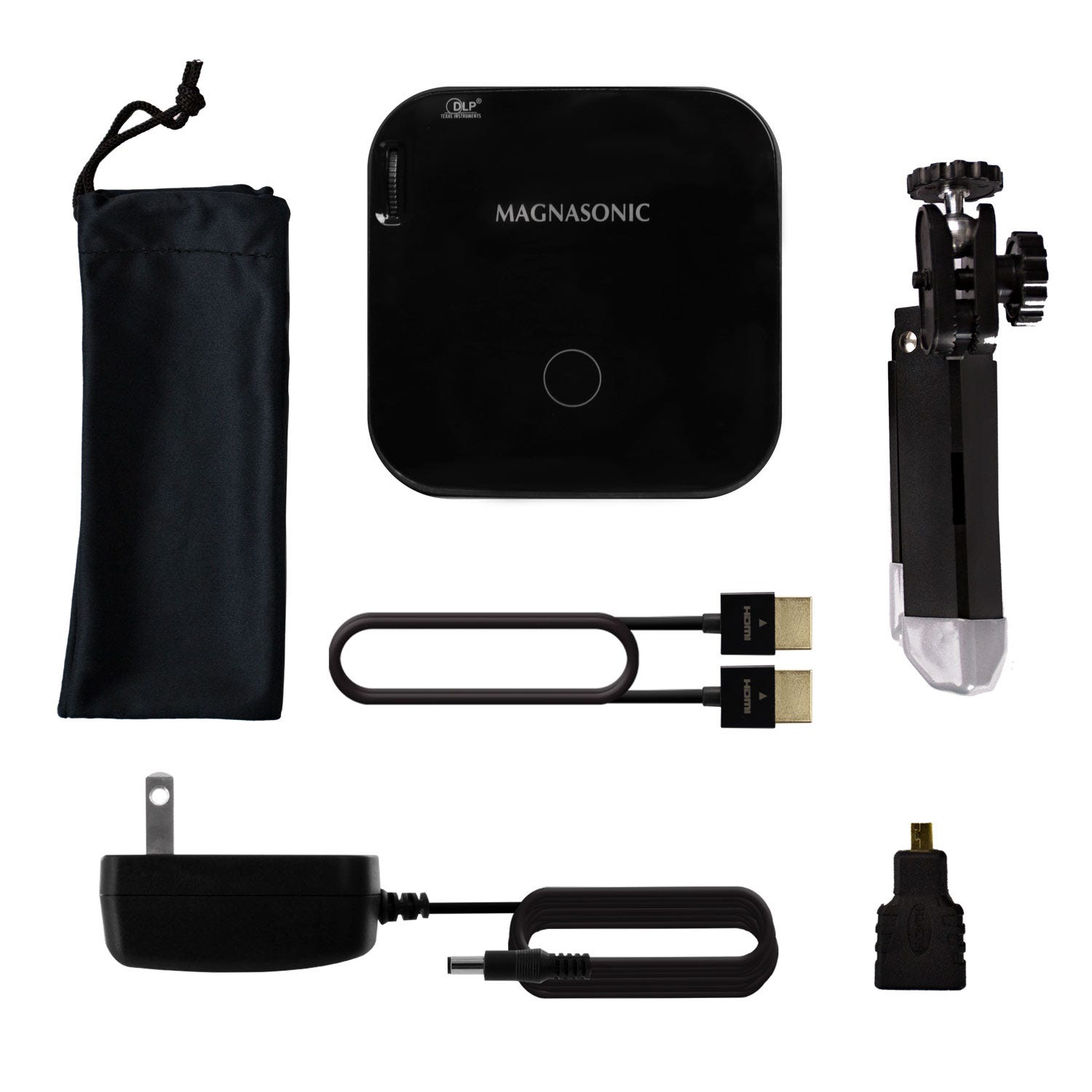 Display Technology
DLP Technology by Texas Instruments - PP72
Power Input
DC 12V/2A - PP72
Light Source
LED (RGB) - PP72
Lamp Life
Over 20,000 hours - PP72
Projection Size
10" to 80" (recommended distance 1-8 feet) - PP72
Contrast Ratio
1000:1 - PP72
Audio
Two 1W Speakers - PP72
Audio Output
3.5mm Headphone Jack - PP72
Battery Life
Up to 1.5 hours (will be reduced when using wireless mode) - PP72
Battery Size
3800 mAh - PP72
Battery Requirements
Lithium-polymer battery - PP72
USB Charging Output
5V/500mA - PP72
Inputs
Up to 1080p
Video Input
HDMI and Android Wireless, Apple devices need MD826AM/A adapter - PP72
Aspect Ratio
16:9 - PP72
Lens
Manual Focus - PP72
Throw Distance
1m - 2.9m - PP72
Throw Ratio
1.3 - PP72
Auto Keystone
+/- 40 degrees auto vertical keystone correction - PP72
Wi-Fi Band Frequency
2.4GHz - PP72
Wi-Fi Mirroring Compatibility
Android 4.2 or later via Miracast - PP72
Dimensions
4.1 (L) x 4.1 (W) x 1.0 (H) inches - PP72
Weight
0.54 lbs - PP72
Certifications
FCC, ICES, cUL/UL, CEC - PP72
Manufacturer's SKU
PP72
UPC
061783266267
What's Included

PP72 Wi-Fi Mini Projector
HDMI Cable
Micro HDMI Adapter
Power Adapter
Protection Bag
Tripod
User's Manual
Lifetime Customer Support
1 Year Manufacturer Direct Parts & Labor Warranty