Overview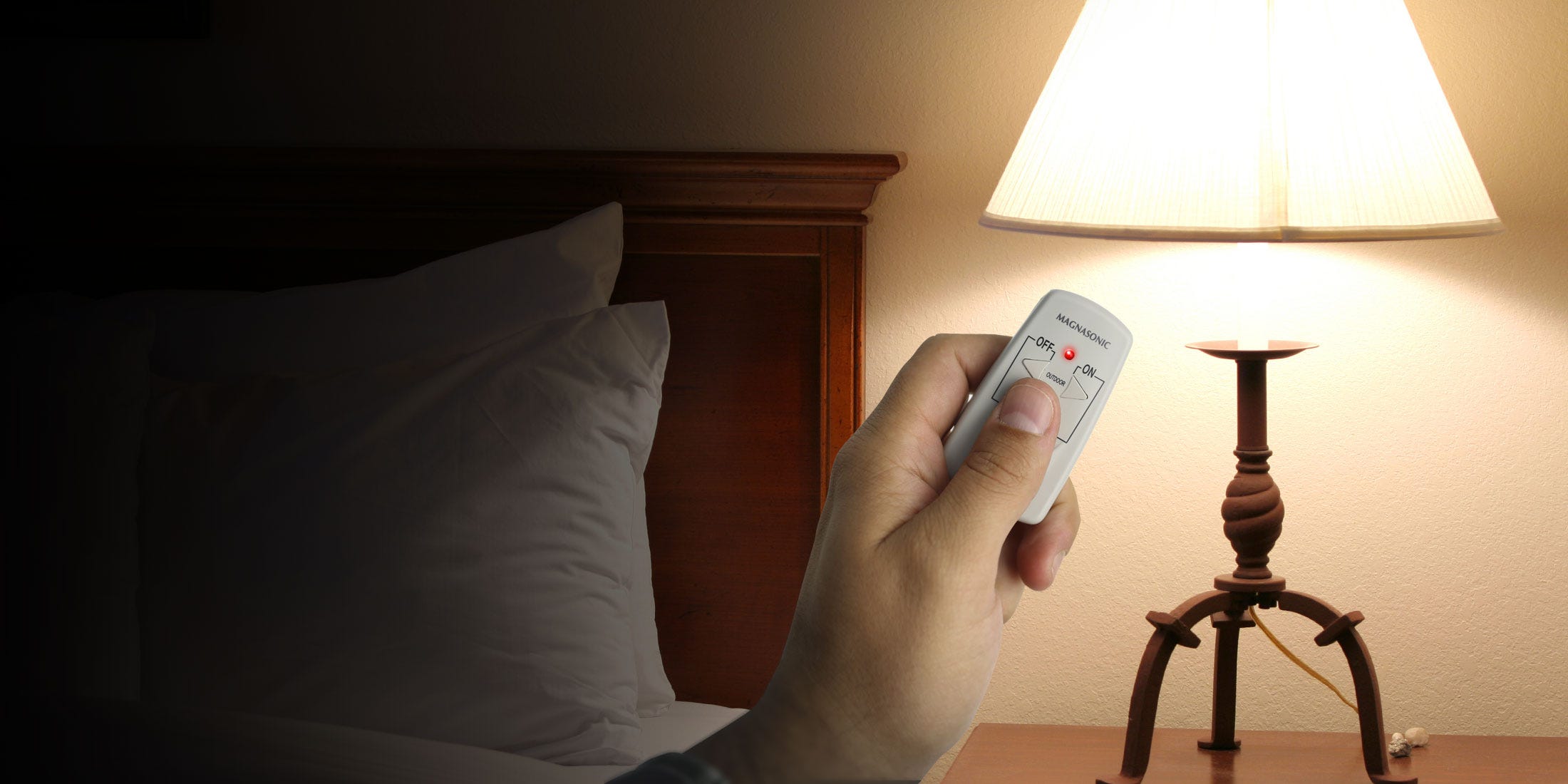 Home Automation Power Outlet Outdoor On/Off Switch
This technologically advanced wireless electronic remote switch makes home automation easy - control virtually everything in your house with just the push of a button. Control lamps, radios, or other electrical devices from up to 100 feet away, even through walls and floors, with this radio frequency wireless remote control. The receiver plugs directly into any three-prong outlet, and provides a remote switched three-prong outlet to allow radio frequency on & off control for a wide variety of electrical devices. The control unit, with keychain, is more than small enough to fit into your pocket, but its signal will work up to 100 feet away from the receiver even from inside your car.
The possibilities for the wireless power switch are endless. Use it to power on kitchen appliances. Start your morning coffee brewing before you even head downstairs and have it waiting for you as soon as you reach the breakfast table. It's ideal for those hard-to-reach plug-ins like lights and computer outlets. The kids left the television on and you don't feel like getting out of a comfortable chair to turn it off? Just one handy button and you're in charge.
Common Uses:
Turn lights on and off remotely, never walk into a dark room again, easily investigate a noise in the middle of the night, have the lights in your house on before you even step through the front door, no need to get off the couch, warm up kitchen appliances first thing in the morning!
Ideal For:
Garages, kitchens, basements, businesses, entryways, front doors, backyards, offices, warehouses.
Easy Plug & Play Installation:
Plug receiver into wall outlet. Plug device to be controlled into receiver. That's it you're done! No wiring necessary!
Note: WRC101 for indoor or outdoor use, can be used in damp locations, do not exceed electrical ratings. A low level of power is required to keep the remote receiver running.
Specifications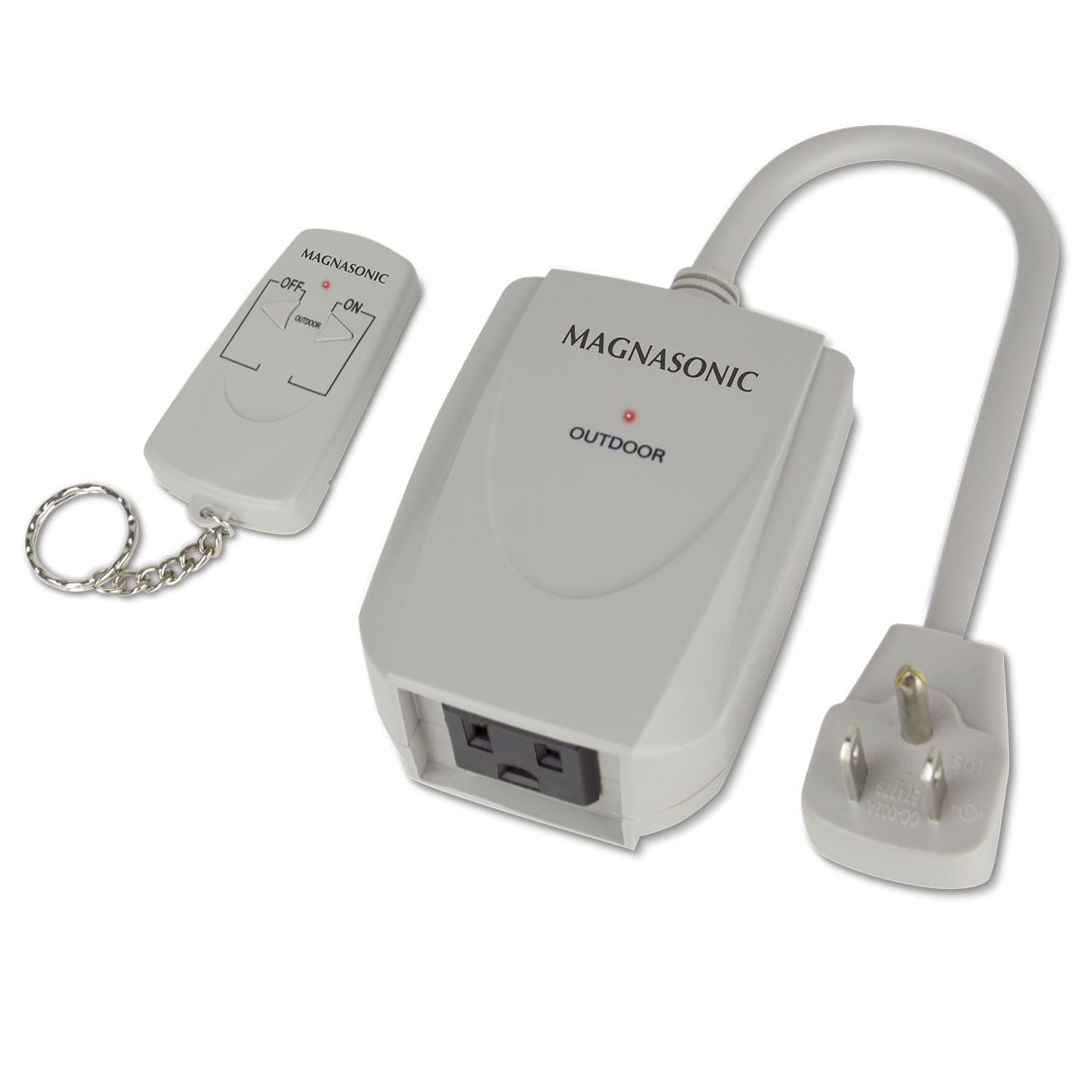 Wireless Range
100 Feet
POWER CORD Length
8 inches
Compatibility
3-prong 120 volt 60 Hz standard AC remove switch outlet
Current Capacity
Up to 16A 2000W/8A 1000W Tungsten of Current (1/3 HP load)
TEMPERATURE RANGE
Works for 0C (32F) to 40C (104F)
UPC
871363005137
What's Included
Remote Controller with Attached Keychain
Remote Battery 23A 12V L1028,
Indoor/Outdoor Weatherproof Plug-in Receiver with 8 inch Power Cord
Lifetime Customer Support
1 Year Manufacturer's Warranty
Customer Reviews
McGrath

February 2, 2020

Florida, United States

Used the remote control outlet a couple times and then stopped working. Not batteries in remote as the light illuminates when pressed and the main "outdoor" unit light no longer illuminates.

McGrath

1

Janice Strayer W

October 23, 2019

Florida, United States

The is the second unit ordered from Amazon. They turn the connected device on, then they stopped working.

Janice Strayer W

1