Specifications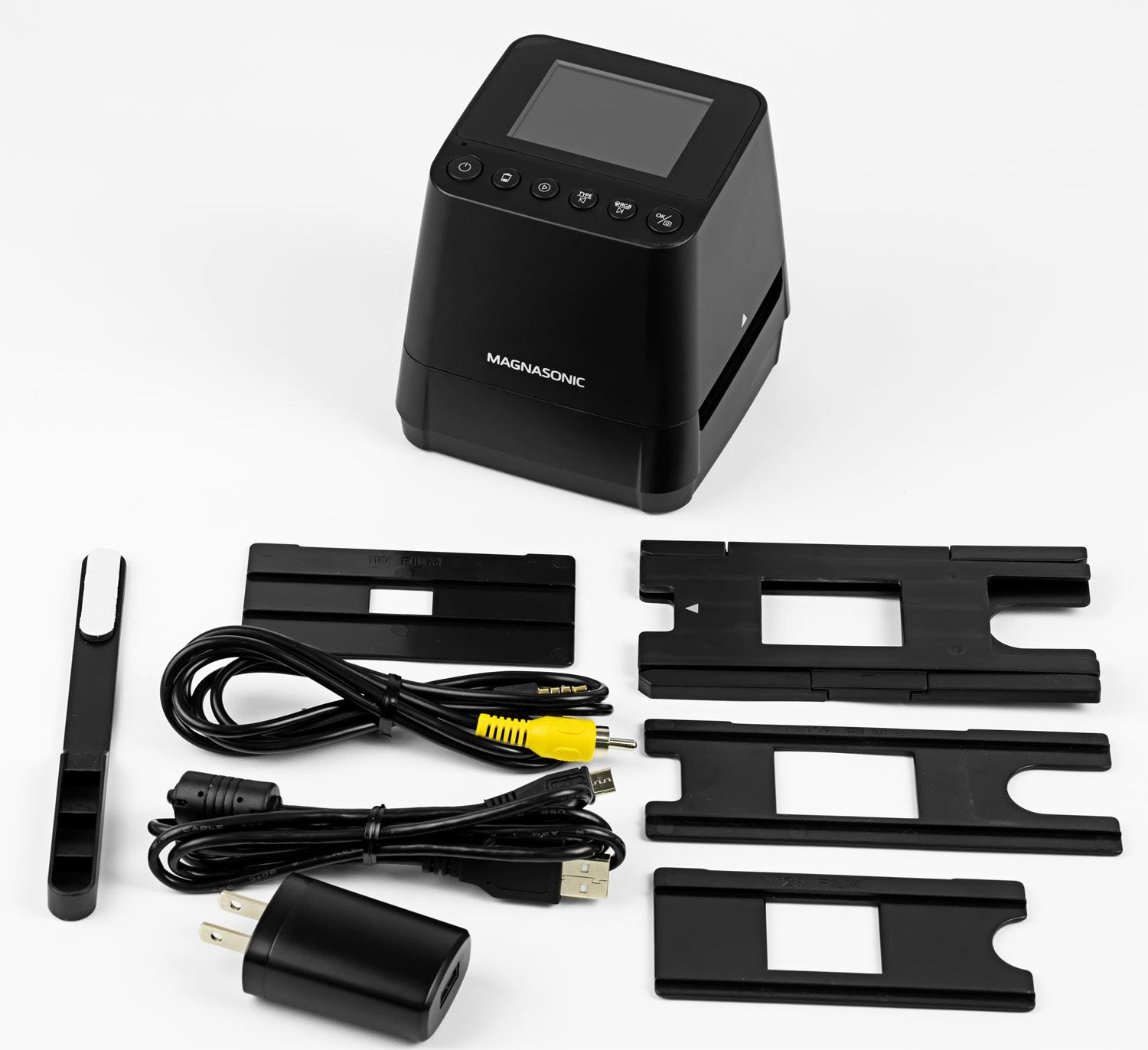 Display
2.4" Color LCD Display
Focus Range
Fixed
Exposure Control
Automatic & Manual Adjustment
White Balance
Automatic
Recording Resolution
5856 x 3904 pixels/interpolation
Scan Quality
4200 dpi (interpolation)
Picture Aspect Ratio
135 film – 3:2, 135 slide – 3:2, 110 film – 4:3, 126 film – 1:1
Scan Method
Single Pass
Film Type
135 film, 135 slide, 110 film, and 126 film
Picture Effects
Black & White, Slides, Negatives
Light Source
LED back light flat pad
File Format
Jpeg
Image Playback
Single
TV Out Type
NTSC/PAL
Built-In Memory
64 MB
External Memory Card
Up to 32GB SD card
Scan Speed
3-5 seconds
Language
English/French/Spanish/Simplified Chinese/ Traditional Chinese/German/Italian/Japanese
Dimensions
4.0 x 3.6 x 3.9 inches / 101.6 x 91.4 x 99.1 mm (HxWxD)
Weight
0.49 lbs
Power Supply
AC/DC (USB), Input: 100~240V, 50/60 Hz 0.2A. Output: 5V, 1A
Certifications
FCC/ICES, ETL/CETL
UPC
871363019172
What's Included

Film scanner
USB Cable
Video Out TV Cable
USB Wall Adapter
135 Slide/Main Film Tray
135 Film Adaptor
110 Film Adaptor
126 Film Adaptor
Cleaning Brush
User's Manual
Lifetime Customer Support
1 Year Manufacturer's Direct Warranty
Customer Reviews
SStevensS

January 22, 2021

This was a cumbersome piece of equipment to use. The menu was fairly easy to figure out but clicking buttons through the controls was on par with 1980's computer technology. I could only load one frame at a time, capture it, then remove the negative adapter and reposition the negative, reload, etc. Then click through several steps to view it on my computer. My photos seemed a little blurry once uploaded. Far too much trouble for the big box of negative I have to convert. I found a flatbed scanner that does multiple negatives and has much higher quality images.

SStevensS

1

gaetan m

January 3, 2021

c'est un produit que je n'aurais pas du acheter car je n'ai pas ete capable de le faire fonctionner correctement.

gaetan m

1

Thomas A

October 1, 2020

Indiana, United States

Not what I understood it to be. I was told that it would work direct to my Mac, but it does not work that way at all. I need a slide scanner (high def) that works DIRECT to my computer and not through a secondary point, ie. an SD card.

Thomas A

1

AggGrow

September 28, 2020

I thought this thing would scan a picture and capture it on my PC. It does NOT do that. You need to save it and then connect to your PC to transfer. Suboptimal, but otherwise works OK. Resolution is fair.

AggGrow

4

SiAs

September 28, 2020

Definitivamente no me gustó, y es muy caro para no funcionar perfectamente. En cuanto a lo positivo, puedes escanear rápidamente las fotos, puedes usarlo también para ver las fotos en su pantalla si no las has escaneado y quieres encontrar algún negativo (eso es lo único relativamente bueno). En lo negativo es un pésimo escáner ya que extrapola las fotografías al grado que parece todo una mancha, no te permite ajustar correctamente la exposición. Todas las fotos del lado izquierdo salen color rojizo, en el centro salen con los tonos blancos. Comparativamente un escáner de hace algunos años con un adaptador de dispositivas hace un mucho mejor trabajo. Por cierto, no escanea las fotos a 23 MP, lo hace a 5 MP y luego lo extrapola digitalmente, lo que hace que el tamaño de foto sea grande (6 MB), pero la calidad es pésima. Nada lo puedes configurar, por ejemplo, si quieres que no extrapole la imagen, o si no quieres que haga una compresión fuerte en JPG, o si quieres disminuir el contraste (todo tiene un contraste altísimo y se pierden casi todos los colores). Lo único que puedes configurar es que en cada foto puedes hacerla más brillante o más obscura (esto no quiere decir que salgan mejor, sólo más blancas o obscuras) o aumentar o disminuir en general el color rojo, verde o azul.

SiAs

1

Amazon Customer

September 27, 2020

Very easy to use. High quality 35mm slide conversion.

Amazon Customer

5

Sam S

September 26, 2020

If you are not making more than a few dozen digitizations at a time this is an excellent choice. While the instructions are a bit sparse, they are adequate. With a few minutes practice most of the options will become apparent. This is not for making hundreds of digital copies in an evening, but if you just need to make a copy from an old negative or slide from the pre-digital era it is a handy and well priced device.

Sam S

5

Cecilia c

September 25, 2020

Esajeradamente incómodo para usar y encarrilar los negativos.

Cecilia c

1

Mike M

September 24, 2020

The product worked as desired and was easy to use.

Mike M

4

Denis A

September 23, 2020

Fonctionne bien mais les instructions sont uniquement en anglais. Le cadrage du négatif dans l'appareil n'est pas fameux car le négatif bouge sur le support. C'est quand même bien pour revoir les vieux négatifs couleurs mais on doit toujours s'ajuster. Appareil pas dispendieux et la qualité est de paire. Ce n'est pas un appareil professionnel.

Denis A

3

JMoore

September 20, 2020

Good value.

JMoore

5

Daniel G

September 20, 2020

Cet appareil a dépassé mes attentes

Daniel G

5

Stef-ah-knee24

September 17, 2020

Did not work! Could not scan slides, had to hand feed one slide at a time to attempt scan. Screen was unclear on what picture would actually look like. Terrible purchase, returned shortly after purchasing it!!

Stef-ah-knee24

1

A M

September 11, 2020

I bought this almost a year ago and used it immediately to save some negatives and slides. Worked well upon opening the box, I used it for 2 nights in a row and then put it aside until now thinking I would continue that project. The port (USBc) is broken already. We can hear a metal sound inside so some part of the port must have broken off. It went straight to the trash after 2 days of use almost a year ago! Nice!!

A M

1

Artyna

September 11, 2020

I purchased this because I found a chest of slides that my father my father had taken from the 50's and 60's. This converter allowed me the opportunity to convert the slides to jpegs and share them with family members. Despite being tech savvy, I did find that it took several attempts to work out the kinks of using this machine. But, it was not insurmountable. I thought the directions could be clearer. If you have a lot of slides, you will have to download them frequently because the memory of the machine will fill up. Caution: When you download the pictures, you must make sure you rename the new set or save them in a different folder if you are not going to rename them or you will lose the first set you saved. This will be frustrating if you lose the initial set.

See all reviews

Artyna

4
Resources
Manual
FAQs
What kind of film can I scan in the FS51?

The Magnasonic FS51 film scanner can scan a number of different film formats including:
35mm film strips, 35mm slides, 110 and 126 film. It can also scan in black and white, or in full color!


Can I scan undeveloped film in the FS51?

No, the FS51 cannot scan undeveloped film. It is important to never expose undeveloped film to light as it will overexpose and damage the film which cannot be recovered. Although most retailers don't offer the option of developing film, some specialty photography shops offer the service.


Will the FS51 fix scratches or fading?

The FS51 is able to make minor adjustments to color and exposure but cannot fill in scratches or fading that may happen over time.


Do I need a computer to use the FS51?

While a computer is not necessary, it is highly recommended. The FS51 can scan directly to an SD card inserted in the scanner.
To view the scanned images, insert the SD card into a TV or computer with an SD card slot.


What's the biggest SD card I can put in the FS51?

The FS51 will accept SD cards up to 32GB in size.


Can I use the FS51 on an Apple computer?

Absolutely! FS51 is compatible with MacOS 10.5 and up!