Overview

Bluetooth Speaker Alarm Clock Radio
Wake up energized with the Magnasonic Bluetooth Speaker Alarm Clock Radio. Enjoy the ultimate convenience of this all-in-one alarm clock while appreciating the sensational sound you wouldn't expect from your bedside table.

Wirelessly Stream Your Music To Your Clock Radio
Designed with all the features to get you out of bed and ready to rock! With an integrated Bluetooth speaker to get you moving to your favorite beats. Stream from Spotify or iTunes directly to your bedside speaker.

Charge Two USB Devices as You Sleep
Recharge your phone and yourself. Enjoy the ultimate charging station that will keep your most used devices within arm's reach, fully charged, without taking up multiple hard to reach outlets hidden behind furniture. Keep your smartphone, tablet, or e-reader at 100%.

Start Everyday with Simplicity Without Sacrificing Functionality
We developed the world's easiest to use alarm clock. Plug it in, select your time zone and it automatically sets the time. Packed with innovative & useful features like automatic adjusting display brightness, dual alarm, battery backup, auto daylight savings time, aux 3.5mm input, large 4.8" display, indoor temperature (C/F), date display, digital AM/FM tuner, sleep timer, radio presets and wake to radio or gradual wake buzzer to awaken even the heaviest sleeper.

Project the Time on Wall or Ceiling
Rolling over in the middle of the night to see the time when you're half asleep isn't pleasant. Easily spot the time on the wall or ceiling with the 180-degree swivel projection. The time will always remain in convenient view; all you have to do is open your eyes.

Record Your Own Custom Alarm
Wake up to the beautiful sound of your children or grandchildren singing the new song they learned. One-up your significant other with a hilarious custom alarm prank war. Or just record a beloved sound or song to start your day with a smile.
Get the quality sleep you need and deserve.
Specifications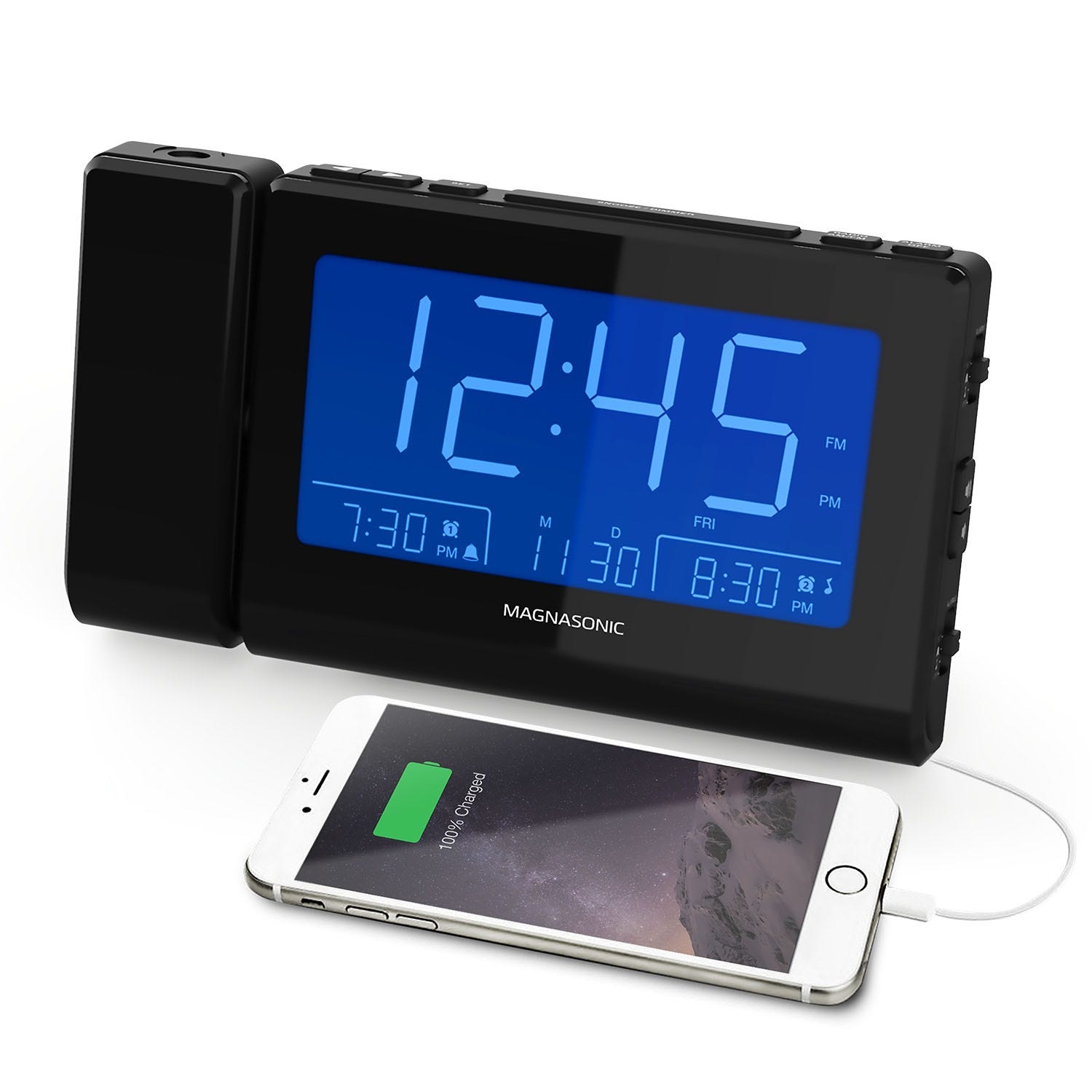 Display Size
4.8" LCD
Display Colour
White/ Blue
Dimensions
7.5 x 4.25 x 4.0 inches / 19.05 x 10.8 x 10.16 cm (HxWxD)
Automatic Time Setting
Yes
Sure Alarm
Yes
Wake Up
No
Battery Back-up for Time
Yes
USB Charging
Yes
PLL Digital Radio Tuner
AM/FM
Radio Station Pre-sets
10 AM, 10 FM
Dual Alarm
Yes
Calendar Display
Yes
Indoor Temperature Reading
Yes
Adjustable Brightness
Auto, High, Medium, Low, Off
Sleep Timer
Yes
Daylight Savings
Yes
Time Zones
8 (Newfoundland – Hawaii-Aleutian)
Custom Recording
Yes (30 seconds)
USB Charging Output
Dual Ports, 2.1A (1 Device: 2.1A, 2 Devices: 1A each)
Speaker Size
2" 5W, 4 Ohms
Volume Indicator LED
Numerical display of volume value
Power Input
100-240V 50-60 Hz
Audio Inputs
Bluetooth, 1 x 3.5 mm Aux In (Aux cable not included)
Frequency Range (AM)
AM – 520 – 1710 kHz
Frequency Range (FM)
FM – 87.5 – 107.9 MHz
Power
DC 5.0V 3.0A
Projection Swivel Tilt
180%C2%B0 Tilt
Number of Alarms
2 (week, weekday, weekend)
Alarm Options
Radio, Buzzer, Custom Recording
Projection Flip
Yes
Projection Focus
Yes
Time/Date Restore
1 x 3V, CR2032 Flat Lithium Battery (Included)
Unit Weight
1.3 lbs
Unit Colour
Black
Certifications
FCC/ICES, ETL/CETL, NRCan
UPC
061783267493/ 061783267479
What's Included
CR65 Clock Radio
Instruction Manual
1 x 3V, CR2032 Flat Lithium Battery (installed)
100V-240V (50/60Hz) AC Power Adapter
Lifetime Customer Support
1 Year Manufacturer's Warranty
Customer Reviews
Esther

June 10, 2020

It does exactly what it says on the description, I'm impressed.

Esther

5

Barbara G

May 31, 2020

Everything was just as advertised. Clock works great!

Barbara G

5

Francisco G

May 26, 2020

It's super motivating to hear my custom alarm, a recording of myself prompting for morning pushups and seeing the time on the ceiling. That second just feels longer enough to jump out of bed every single time. I have never hit the snooze button nor slept in since I got this. I do however have to tip the facing flush screen down to sleep since the blue light would keep me awake.

Francisco G

5

this g

May 26, 2020

The screen is not bright enough on low light mode to see the Time in the dark and The high light mode is way to bright

this g

3

Dylan W

May 22, 2020

Everything works fine but the alarm isnt very loud and isnt loud enough to wake me up. Connecting your phone over bluetooth works but again the speakers on this thing are weak. I asked a question on here if the loudest is level 15 and the answer I got back was its plenty loud. Lol

Dylan W

2

Susan N

May 1, 2020

Bought this for my husband for christmas. He loves it. He was so excited.

Susan N

5

Occasional r

April 16, 2020

Lots of features at a very affordable price. Works great.

Occasional r

5

Chris W

April 15, 2020

Projection died after three days. Occasionally it would be correct and bright but when the minute changed, it displayed times dimly and then like 93:89.The auto brightness was a bit too dim at night but easy fix. Just touch the top snooze/dim bar for brighter. Good sound on radio and did a great job pulling stations. I don't need an alarm normally so didn't get to try it out. I'm asking for a replacement from Amazon and hopefully this one lasts. Otherwise, refund. I bought the insurance on it. Three bucks for three years is cheap enough in case.

Chris W

2

Cherall H

February 18, 2020

Bought this for my hubby and he really likes it.

Cherall H

4

Rachel

February 16, 2020

I just love my new alarm clock. It's easy to understand how it works and the brightness is wonderful and seeing the time on the ceiling is awesome.

Rachel

5

Ronnie K

January 28, 2020

Love this clock, my 2nd one to purchase

Ronnie K

5

Aron, L

January 17, 2020

California, United States

It was amazingly difficult to find an alarm clock that had all the features I was looking for; small but not too small, projected time, self-setting, Bluetooth speaker, dimmable, dual alarm, wake to alarm or music, good price...
Very hard to find, but this product hit all those marks, but just barely.
Size was good, projection was ok but the display of dots was difficult to read. Dimming was too dim and the next setting up was too bright. Bluetooth was ok but the sound was not great. Self-setting time was not accurate. Off by almost ten minutes. Everything else was alright, even the price.
Considering how few products have all these features, I guess I was lucky to find this one, even if it was not perfect.

Aron, L

4

Norma M

January 2, 2020

Much needed to see the time on my ceiling, will be ordering another one

Norma M

5

Guy L

March 19, 2019

Quebec, Canada

Would recommend. Full of nice features.
Auto set, USB charger, time projection...they are GREAT
Things I would like in a upgraded version in the future:
Less buttons - have a menu button instead.


Guy L

4

Manish Srivastava

February 27, 2019

Ontario, Canada

I replaced my 20 year clock radio with the CR65 and I absolutely love it. It has all the features I was looking for: dual alarm, big display that is soothing to the eyes, USB charging, Bluetooth capability, Auxiliary input, time projection, and temperature reading. It was so easy to set-up, very intuitive. The only thing I was surprised was the external wired FM antenna and the wired temperature sensor. There was no mention of that in the product description and makes the whole set-up unsightly from the back. But not a deal breaker. I highly recommend this Canadian-designed clock radio.

See all reviews

Manish Srivastava

5
Resources
Manual
FAQs
Does the CR65 Clock Radio set itself like an atomic clock? ▼
No, the clock is shipped to you with a pre-set time. The first time the clock is set up, you will be asked to select your time zone which will set the correct time for your area.


Does this Clock Radio have a gradual alarm? ▼
Yes! The radio and recorded alarm sound with a gradual increase in volume up to the setting selecting during setup. The buzzer option will sound at a consistent volume level.


Can I play music from my Smartphone as an alarm? ▼
No, the clock does not have the ability to control the phone to start playback based on alarm


Will this clock run on battery alone? ▼
No, while the clock has battery backup, it's used to retain settings when the power goes out. It doesn't provide enough power to run the clock on its own.


Will the alarm go off if the power goes out? ▼
Yes! The Magnasonic CR65 Bluetooth Speaker Clock Radio uses Sure Alarm technology to sound your alarms on time, even when the power is out! When power is restored, all of your settings and time will remain as well.