Overview
Magnasonic Home Theater Soundbase
The Magnasonic Soundbase TV Speaker System is the perfect solution for those in need of big theater performance without the space for multiple speakers, amplifiers and wiring. The SB41 is designed for placement right under your TV or computer monitor and provides superior sound for a truly immersive listening experience.
Room-Filling Powerful Sound
This 2.1 channel soundbase has a built-in subwoofer for deep bass and offers 60 watts of room-filling sound. The SB41 incorporates high-performance dual-range drivers that produce clean vocals and dialogue with captivating clarity. To ensure you're getting the best audio experience, choose from three EQ presets – Vocal for news, Movie for blockbusters, and Music for your ultimate playlist.
Ultimate Audio Connectivity
Easily connect through HDMI ARC, 3.5mm AUX, RCA (adapter cable included) and wirelessly via Bluetooth. Even use your USB stick to playback your favorite digital music files.
Acoustically Tuned Wood Cabinet Designed with Sound Quality in Mind
Made with engineered wood for a warmer, natural sound, unlike plastic soundbar enclosures which do not create quality audio reproduction. This cabinet allows proper air flow so the drivers can perform at the highest level. Its compact size is perfect for fitting under your TV or computer monitor (up to 110lbs/50kg) in your living room, gaming room, or bedroom. No need to purchase large floor standing speakers or the inconvenience that comes with wiring complicated sound systems.
Specifications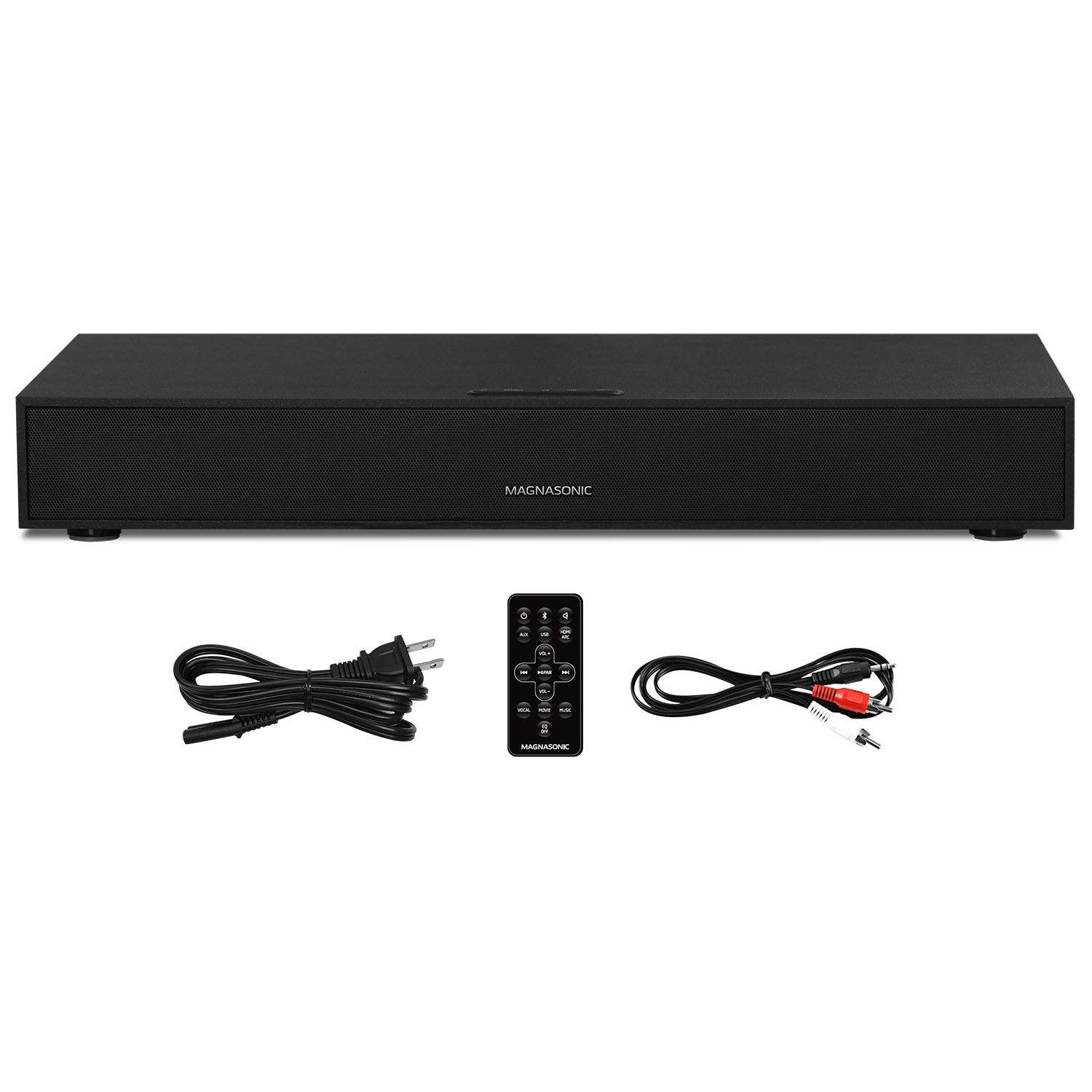 Frequency Response
40Hz-20KHz
Amplifier Power
15W x 2 + 30W RMS (< 0.5W on Standby)
Input
HDMI ARC/AUX/USB
Bluetooth
4.2
Virtual Surround Sound (3D)
No
Bass Boost
No
Power
Input: 100-240V AC (50/60Hz)
Max Weight Allowance
110 lbs (50kg)
Dimensions
20.7 (W) x 3.0 (H) x 11.9 (D) inches
Speaker Weight
7.7 lbs (3.5kg)
Certifications
ETL/CETL
What's Included
Magnasonic SB41 Home Theater Soundbase
Remote Control
RCA Cable
AC 110-220V Power Cable
Lifetime Customer Support
1 Year Manufacturer's Warranty
Customer Reviews
Debbie (Rick) F

December 30, 2020

Alberta, Canada

Good sound theatre system for the price. Thank you very much for making it affordable at $94.00! I got it for Christmas and pleased. It is as advertised. I have my TV on top of it, fit perfect. I like very much the wood grain finish and thought it was to be made of wood. It is black and so is my TV monitor so all is well. Best of all is the sound which is very good for a small condo big room, I can hear it well in the kitchen and living room and love the ability to change it to movie sound which is slightly different from vocal or music.

Debbie (Rick) F

4

S

September 25, 2020

Ontario, Canada

Excellent value. A significant upgrade to my tv's audio and I'm pleased with the sound when I use Bluetooth to stream music. Well worth the purchase if the audio on your tv is lacking.

S

4

Patrick F.

June 30, 2020

California, United States

The unit is nice ! fits right under our Samsung Q 60, 60in tv, "not sitting on unit" sound is pretty good ! a bit light on base but far better sound than the stock TV speakers, could use a bit more power, some movies are just not quite loud enough but still waaay better than TV speakers !! the remote is a bit of a hassle though, at 8 feet away, you have to be pointing directly at the center of the unit, not high or low or off to one side, but pretty dead center, for it to function, and at times must push the remotes buttons a couple times to change volume or sound profile, put in a new battery but no help, still finiky, but overall, quite happy with the unit! and for the money and warranty, it would be hard to find a comparable sound, I researched many before my purchase, this unit was by far the best overall deal. buy and enjoy !! P.F.

Patrick F.

4

Jean Claude B

March 21, 2020

Quebec, Canada

Inexpensive and pratical solution to tinny flat tv sound. Although I am hard of hearing, the dialogue is clear and the equalisations are a nice feature. At this price, there is nothing close to it in the marketplace so we bought a 2nd one !

Jean Claude B

5

KB

June 22, 2019

Awesome sound and works great with my LG smart tv

KB

5

Claire M

May 16, 2019

Oregon, United States

This product is as advertised. It definitely improves our ability to understand spoken dialogic, which is you main reason for purchasing it. It fits neatly on the shelf below our TV.

Claire M

4
Resources
Manual
FAQs
What is HDMI ARC?

HDMI ARC (Audio Return Channel) Is an HDMI Audio Output connection found on many current televisions.
This feature allows you to connect your TV directly to your soundbar using HDMI so any source device such as a Blu-Ray Player connected to the TV will send sound to the soundbase through the digital HDMI connection. The result is higher quality audio and easy set up for any devices connected to your TV!


What connections does SB41 have?

The Magnasonic SB41 includes Bluetooth, 3.5mm auxiliary, HDMI ARC, and USB input which supports playback from USB thumb drives up to 32GB.


Can I put my TV on top of the SB41?

Magnasonic SB41 supports TVs with pedestal stands up to 18.9 (W) x 8.7 (D) inches in size and up to a maximum weight of 110 lbs (50 kg)


What is the SB41 made of?

The cabinet of the SB41 is made using MDF (medium density fiberboard). This gives the SB41 a much warmer sound profile over materials like metal or plastic!