Overview

Alarm Clock Radio with Dual Gradual Wake Alarm
Start your morning right with the Magnasonic Alarm Clock Radio.

Start Everyday with Simplicity
We developed the world's easiest to use alarm clock and packed it with innovative & useful features. The intuitive setup process allows you to be up and running in seconds without confusion or inconvenience. It even adjusts itself for Daylight Savings Time.

Rest Assured Your Alarm Will Still Sound During a Power Outage
Never worry about missing an early appointment or waking up late for that important job interview due to a power failure. The battery backup automatically restores your time and alarm settings and will activate your alarm at the scheduled time in the event of a power loss.

Dual Alarm for Separate Wake Times
Program separate wake times for you & your partner during the work week, weekend, or full week allowing you to set your schedule and not have to worry about setting your alarm.

Adjustable Brightness
Control the screen's brightness to easily spot the time, day or night. Avoid an overly bright screen that blinds you in the middle of the night, or the hard to read dim display in the afternoon sunlight.

Automatically Adjusting Daylight Savings Time
Enjoying sleeping in during the fall, and don't worry about waking up late in the spring as this clock automatically adjusts itself for Daylight Savings Time (DST). Set it once and rest easy knowing your time is always accurate.
Brimming with additional innovative features:
Day/Date display, digital AM/FM tuner, sleep timer, wake to radio or gradual wake buzzer, radio presets.
Get the quality sleep you need and deserve.
Specifications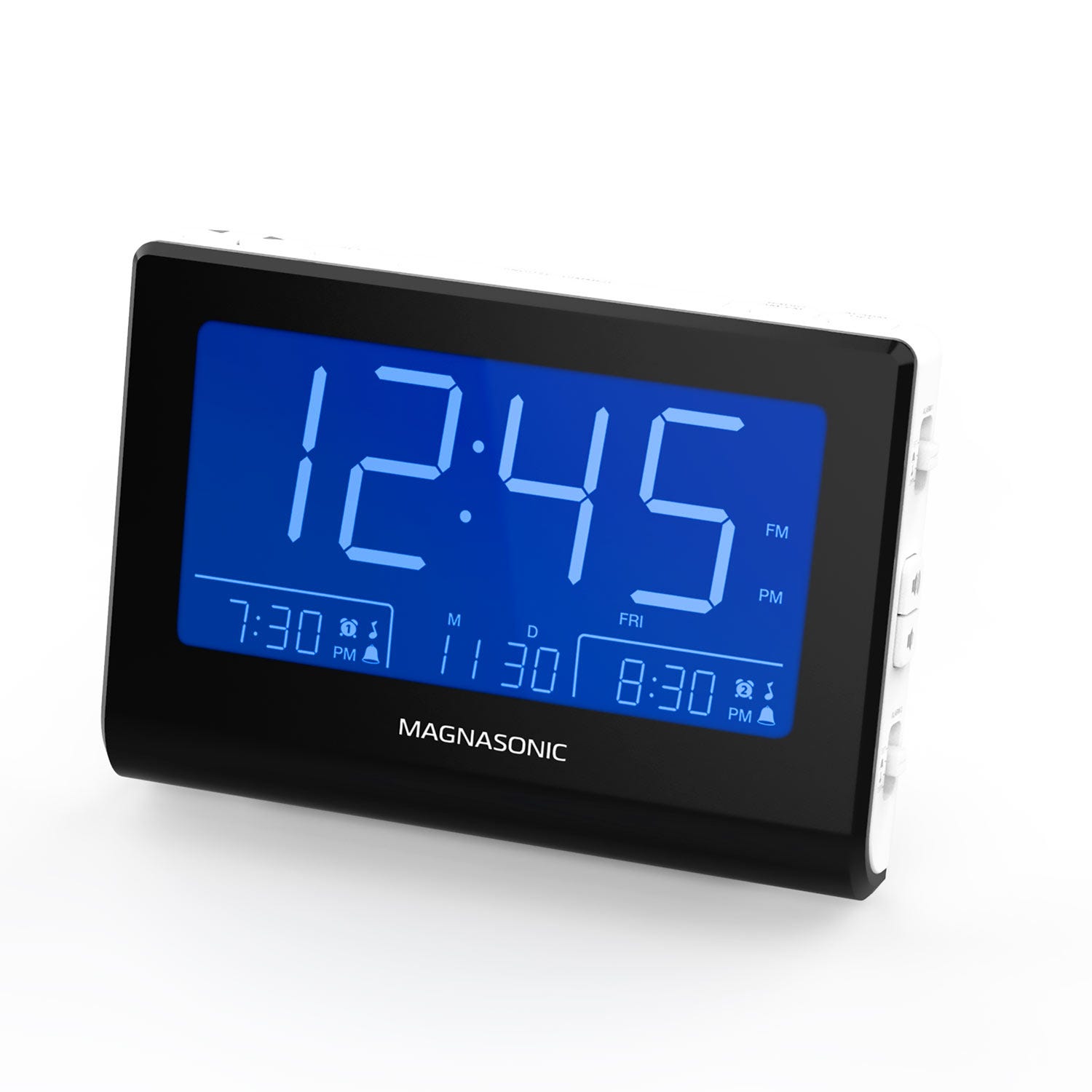 Display Size
4.8" LCD
Display Colour
White/ Blue
Dimensions
2.9 x 5.9 x 4.1 inches
Automatic Time Setting
No
Sure Alarm
Yes
Wake Up
No
Battery Back-up for Time
No
USB Charging
No
PLL Digital Radio Tuner
AM/FM
Radio Station Pre-sets
10 AM, 10 FM
Dual Alarm
Yes
Calendar Display
Yes
Indoor Temperature Reading
No
Adjustable Brightness
High, Low, Off
Sleep Timer
Yes
Speaker Size
2.1" 1.5W, 8 Ohms
Volume Indicator LED
Numerical display of volume value
Power Adapter Input
AC 120V, 60 Hz
Audio Inputs
None
Frequency Range (AM)
AM – 520 – 1710 kHz
Frequency Range (FM)
FM - 87.5 – 107.9 MHz
Power
AC Power
Projection Swivel Tilt
No
Number of Alarms
2 (week, weekday, weekend)
Alarm Options
Radio, Buzzer
Projection Flip
No
Projection Focus
No
Time/Date Restore
1 x 3V, CR2032 Flat Lithium Battery (Included)
Unit Weight
1.25 lbs
Unit Colour
Black and White
Certifications
FCC/ICES, ETL/CETL
What's Included
CR61W Clock Radio
Instruction Manual
1 x 3V, CR2032 Flat Lithium Battery (installed)
Lifetime Customer Support
1 Year Manufacturer's Warranty
Customer Reviews
Taylor C

January 22, 2019

Alberta, Canada

Bought my dad this as a gift, he was very impressed the the various functions, especially the dual alarm; month, day, and day of month displayed; and ability to adjust the brightness.

Josephine S

November 27, 2018

South Carolina, United States

Exactly what we had hoped for from the description. Small, so doesn't overwhelm the bedside table, yet with large, clear numerals, date etc. The radio sound quality is fine for our needs, which is as a gentle wake-up reminder. Being able to dim the screen light is helpful. It can be set to 24 hour or 12 mode and above all it is easy and uncomplicated to set up or change.