Overview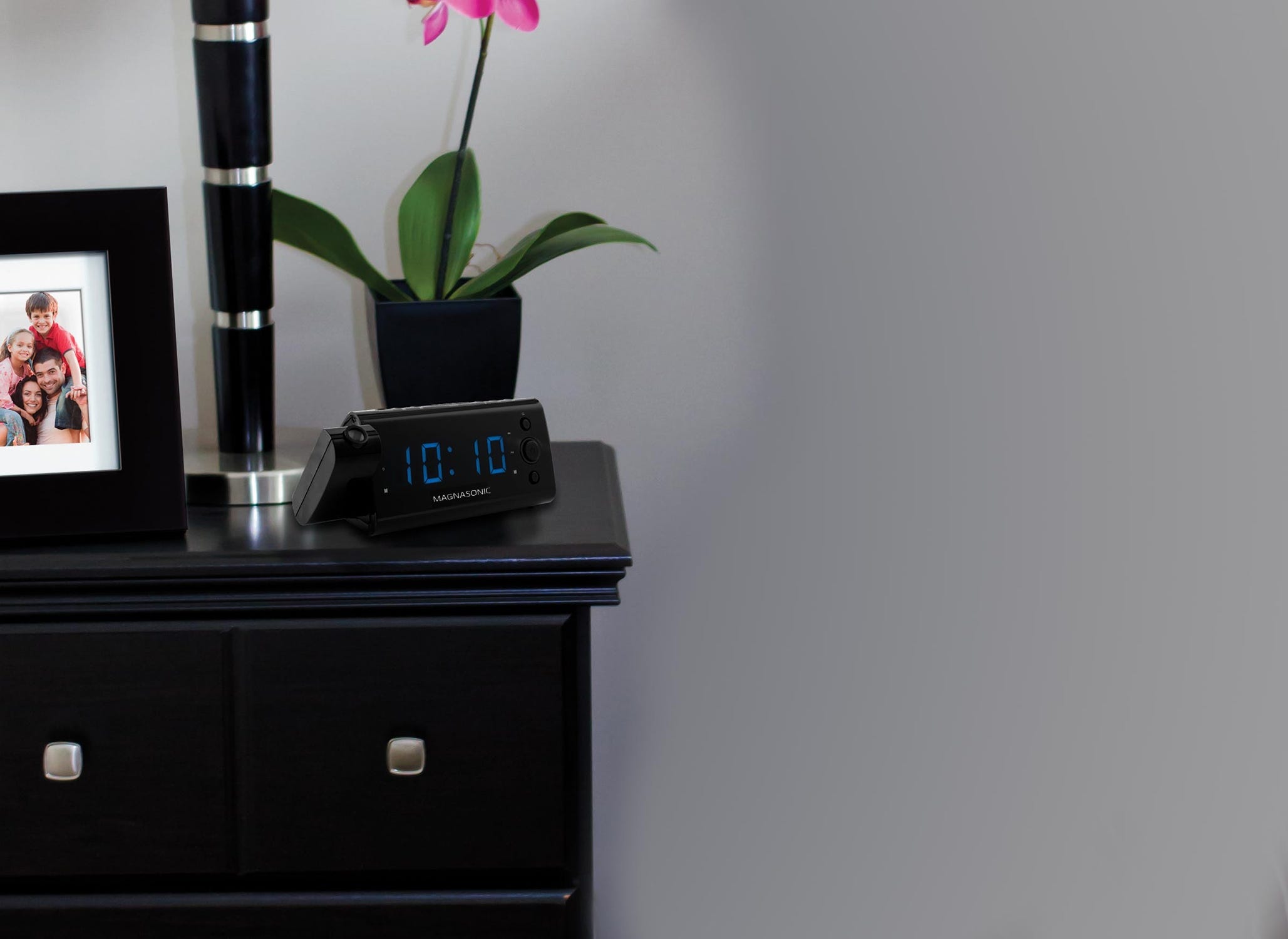 USB Charging Projection Alarm Clock Radio
Always wake up on the right side of the bed with the USB Charging Alarm Clock Radio by Magnasonic®. This device's built-in USB port means you'll never be looking for the charger of your smartphone, tablet or mp3 player. This and a collection of other awesome features, including time projection automatic time set, long lasting battery backup, programmable dual alarm, and digital phase locked loop radio tuner, make this one reliable clock radio you can depend on.
CONVENIENT, FAST USB CHARGING FOR SMARTPHONES & TABLETS
How many times have you laid down in bed intending to recharge your USB device, only to realize you left your adapter all the way in the kitchen? Leave a charging cable plugged directly into your clock's USB port to create a powerful nightstand USB charger for your iPhone, iPad, or mp3 player. Save yourself from the continuous hassle of remembering your power adapter while you free up an outlet at your bedside with this high-speed charger. Your smartphone will be fully charged every morning – just like you.
PROJECTS THE TIME ON YOUR WALL OR CEILING
Twisting and struggling to see the time when you're half asleep isn't pleasant. So this projection clock radio, with 180-degree swivel, projects the time right onto your wall or ceiling for easy, stress free viewing – all you have to do is open your eyes. You'll always know what time it is without compromising your comfort zone. Turn on or off as needed.
AUTOMATICALLY SETS THE TIME & DATE
The convenient SelfSet™ feature makes setting up your clock a snap; simply plug in this device and its preprogrammed date and time settings (preset to Eastern Standard Time) are instantly brought to life on its large 1.2" blue LED display with four dimming options – no squinting required.
DIGITAL AM/FM RADIO WITH 20 STATION MEMORY
This feature, when coupled with the clock's digital frequency display, eliminates the awkward analog tuning band found on most conventional alarm clocks and takes the guesswork out of programming presets and seeking your favorite radio station. Phase-locked loop (PLL) technology gives you the best possible reception and sound quality by digitally locking in on the strongest point of your favorite AM/FM radio signals for a static-free listening experience. With enough memory to program 20 radio station presets, your ears will soon be singing "P-L-L".
REST ASSURED THAT YOUR ALARM WILL STILL SOUND EVEN DURING A POWER FAILURE
Never worry about a power outage disrupting your morning routine again with reliable WakeUp™ technology, developed exclusively by Magnasonic®. The built-in battery backup automatically activates when the power is cut off from your wall outlet. Your alarm will still sound according to your settings while the correct date & time is maintained. Rest assured knowing your alarm clock will have power even when the rest of your home does not.
INTUITIVE FEATURES THAT TAKE CARE
This clock boasts several function specifically designed to make your life easier. Do you wake up early Monday to Friday but prefer to sleep-in on weekends? Is your partner's schedule different than yours? The easily programmable dual alarm can be tailored to fit your weekly routines so you won't have to worry about rescheduling your daily wake-up call. Ever catch yourself wondering if you'll forget Daylight Savings Time (DST) changes again this year? When you first plug in your clock radio and specify your time zone, DST will be automatically updated every spring and fall. This clock displays both the date & indoor temperature (Celsius or Farenheit) in addition to the time so you'll be able to check all your vitals at a glance. And thanks to this device's user-friendly controls, you can easily take advantage of the Sleep timer and the option to wake to buzzer or radio – greet each morning with your favourite radio show.
*product may not be exactly as shown
Specifications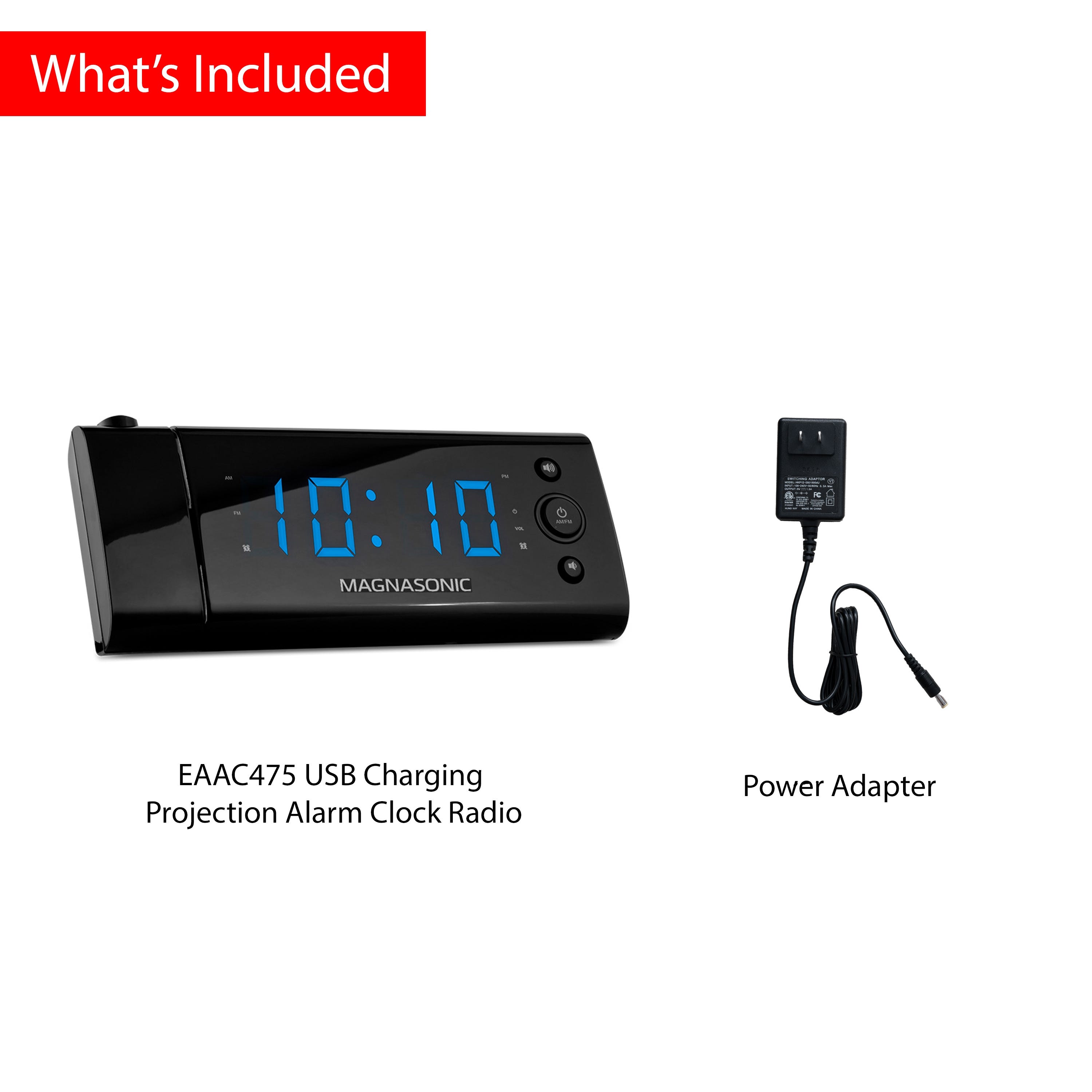 Display Size
1.2"
Display Colour
Blue LED
Automatic Time Setting
Yes
Sure Alarm
Yes
Wake Up
No
Battery Back-up for Time
Yes
USB Charging
Yes
PLL Digital Radio Tuner
Yes- AM/FM
Radio Station Pre-sets
Yes 10 AM/ 10 FM
Dual Alarm
Yes
Calendar Display
Yes
Indoor Temperature Reading
Yes
Adjustable Brightness
Zero, low, med, high
Sleep Timer
Yes
Battery Required
Lithium, Included
USB Charging Output
Single, 1.0A (5.0W)
Speaker Size
1.5" 0.5W, 8 Ohms
Volume Indicator LED
Yes- numerical display of volume value
Power Input
100-240V 50/60Hz
Frequency Range (AM)
520 - 1710 kHz
Frequency Range (FM)
87.5 – 107.9 MHz
Power
DC5V 1500mA
Battery Backup
1 x 3V, CR2032 Flat Lithium battery (Included)
Projection Swivel Tilt
180°
Number of Alarms
2 - with optional weekend skip
LCD Screen Size
4.0"
Alarm Options
Radio / Buzzer / Time Projection
Projection Flip
Yes
Projection Focus
Yes
Time/Date Restore
Auto - after power loss (Sure Alarm)
Dimensions
3.1 x 7.5 x 3 inches / 78.7 x 190.5 x 76.2 mm (HxWxD)
Unit Weight
1.25 lbs.
Unit Color
Black
Certifications
ICES, FCC Certified, ETL/CETL, NRCan
UPC
871363019776
What's Included
EAAC475 Clock Radio
Instructional Manual
Quick Start Guide
1 x 3V, CR2032 Flat Lithium battery
5ft 100-240V AC/DC Power Adapter
Customer Reviews
Catweasel

December 23, 2022

Fast delivery, well packaged. I love being able to see the time whist in bed by just looking at the ceiling.

Catweasel

5

rkr

December 7, 2022

My main objective with this projector clock was that the time would be automatically set, to the second, especially when daylight saving time comes and goes. The projection function is the best that I have found over the years.

rkr

5

Mary Y

December 4, 2022

My brother bought one down south. I liked it so much that when I returned home I ordered one for myself! Exactly what I wanted and needed. Knowing time without turning the lights on.

Mary Y

4

DEK

November 30, 2022

First of all, I love the projection on the ceiling. This was the biggest reason I purchased this clock. The clock is cheaply made, but I wouldn't expect otherwise for the price. I have 2 complaints that render such a low score. 1) The clock loses time and I have to reset the time frequently. The alarm is not very loud. I haven't tried it on radio, but the buzzer on mine is barely audible. If it kept the correct time I would have rated it at least 4 stars.

DEK

1

M H

October 13, 2022

I set the alarm and find out there is no off mode.

M H

3

Brianna

October 6, 2022

It's got 4 brightness settings for the clock face, but none for projection. The projection flips 180° so you'll need to know where your clock will sit in the room before, in case you need something with 90° rotation instead. You do have to manually enter the time and date, and do a special thing for daylight savings, but I'm not that picky about clocks. I was just a little disappointed that the projection didn't also have brightness settings. Not a huge deal, I would recommend this click for people who aren't picky.

Brianna

3

Amazon Customer

October 3, 2022

I bought this because it is one of the very few clock radio alarms with an AM radio. As others have pointed out, the display is just too bright to use while sleeping - even with the three dimming levels available. I need to have it set to "off", which defeats the purpose of having a clock I can glance at.The abundance of alarm features may seem like a good selling point, but I find it to be overly complicated to the point of absurdity. Much of the manual will need to be memorized in order to get proper use out of this thing. At the very least, it should be kept close by.The sound quality of the speakers is also absolutely terrible. I know this isn't meant to be a home theater system or anything, but I have owned four clock radios before this one, and the reception and speaker quality have all been leagues better than this. There is no point even bothering to use the radio on this thing.Lastly, this thing seems to "forget" which radio station I set it to, waking me up with static because it resets itself and defaults to the beginning of the AM dial.If you were like me, and looking for an AM radio alarm clock, look elsewhere.

Amazon Customer

1

Michelle

September 14, 2022

This is a great clock with some minor issues.The sleep mode is wonderful to keep the room dark if you're sensitive to light when you sleep. However, the screen is completely dark besides one glowing dot on the front. I put a few strips of electrical tape over it and it is no longer visible.The clock also gains about 5 minutes per month. At first, it didn't bother me. However, if you let it go more than a few weeks without resetting it, you will find yourself having no idea what time it actually is... which really defeats the purpose of the clock.

Michelle

4

Amazon Customer

September 2, 2022

This model was extremely easy to set up with preset clock by time zone. The DST feature will come in handy in November when the time changes. Both AM and FM radio is clear. Both alarm settings work great on bell or radio. Extremely light weight and portable. Blue LED is easy on eye strain. Projection does time or temp. Convenient USB port provides charging for phone without having to find an electric outlet. And bonus, it comes with a backup battery so you don't have to buy one.

Amazon Customer

5

Joyce

August 4, 2022

set it up quite easily. I bought it because it had presets for radio stations. I wish the reception on AM band was better, but I really like the clock. It was easy to set up, haven't used the alarms yet, but everything else was a breeze.

Joyce

5

Farhan K

March 20, 2022

Been using it for more than 3 years still working perfect. Display on roof is bright. I recommend it.

Farhan K

5

Marilyn K

March 19, 2022

This clock is jut to hard to set. I have read the manual many times. I have tried for days to set this clock but I have never been able to do. I have finely giver up and ordered a new clock. This clock is just to difficult.

Marilyn K

2

Sharon J

February 7, 2022

The clock is what we needed to replace an old one that had stopped working. The radio sound isn't very good, but for the price, we can't complain.

Sharon J

4

Mike R

January 23, 2022

When the alarm goes off, the radio only stays on for 30 minutes (unless there's something in the instructions that we missed) So if you like laying in bed you have to shut the radio off and then turn it back on. There's also a number of settings if you want a different wake-up time for the weekend. The time showing up on the ceiling is a really nice feature.

Mike R

5

PHILLIP I

January 21, 2022

Clock display went blank after just over a year's usage. Unacceptable longevity for a simple electronic device.

See all reviews

PHILLIP I

2