Overview

Alarm Clock Radio with USB Charging
Start your morning right with the Magnasonic USB Charging Alarm Clock Radio.

Start Everyday with Simplicity
We developed the world's easiest to use alarm clock and packed it with innovative & useful features. Plug it in, select your time zone and it automatically sets the time. It even adjusts itself for Daylight Savings Time. Set it once and don't worry about it again.

Charge Your USB Devices as You Sleep
Our smartphones and tablets get a lot of facetime throughout the day leaving brave risk-takers with perilously low levels of power. Rather than moving your furniture frantically, hoping that final 1% lasts while diving for a concealed power outlet; simply plug your phone into your easily accessible bedside clock USB charging port.

Automatically Adjusting Day & Night Display Brightness
This clock radio intuitively adjusts the display's brightness based on your room's lighting. Never be blinded at night by overly bright alarm clocks again or squint in the middle of the day to read a dim display. Easily read the time day or night.

Dual Alarm for Separate Wake Times
This smart clock lets you set individual alarm schedules for the week, weekdays, and weekends for you and your partner.

Rest Assured Your Alarm Will Still Sound During a Power Outage
Never worry about missing an early appointment or waking up on time for that important job interview due to a power failure. The battery backup automatically restores your time and alarm settings and will activate your alarm at the scheduled time in the event of a power loss.

Brimming with Additional Innovative Features
Automatic time set, date display, digital AM/FM tuner, sleep timer, wake to radio or gradual wake buzzer, radio presets.
Get the quality sleep you need and deserve.
Specifications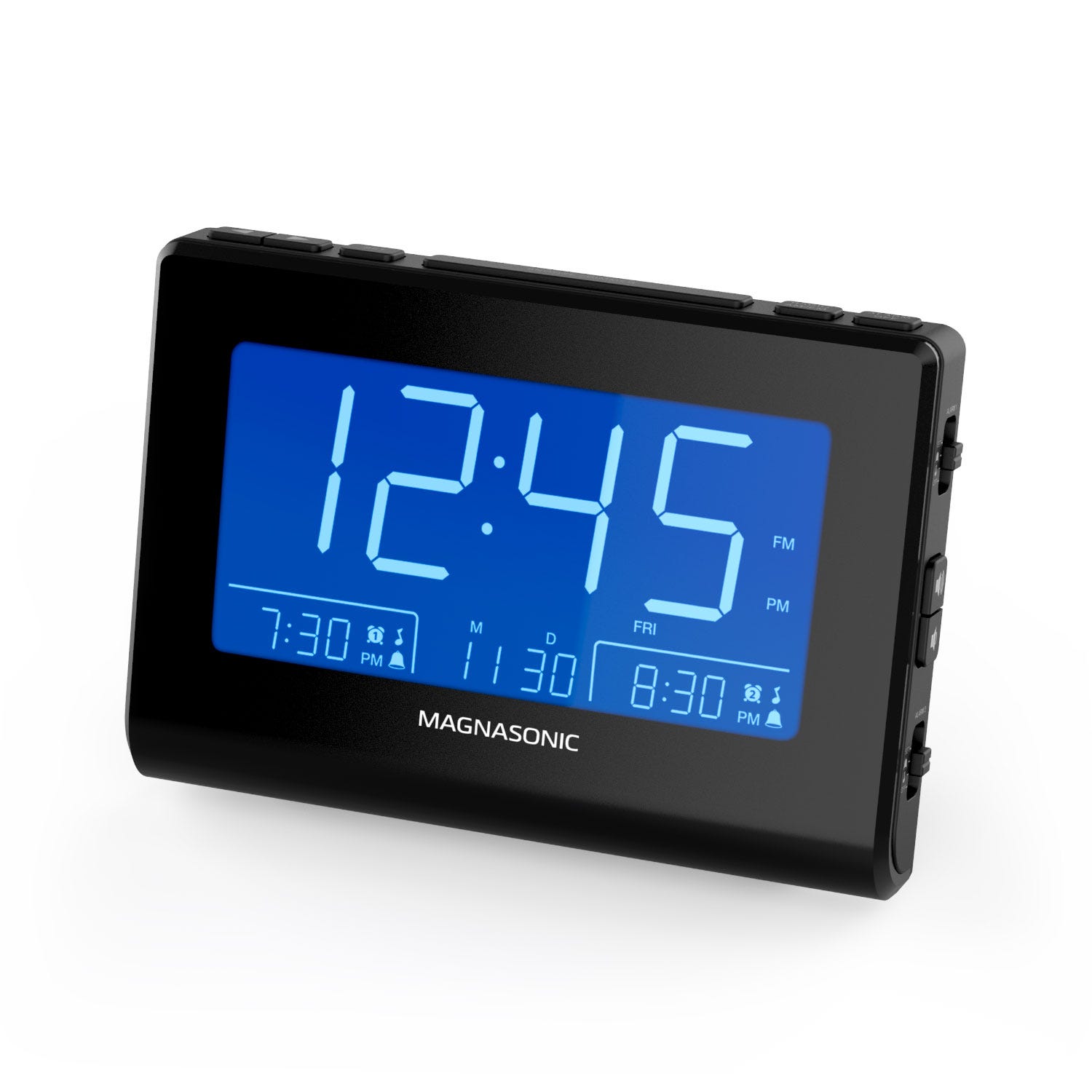 Display Size
4.8" LCD, White/ Blue
Display Colour
Blue
Automatic Time Setting
Yes
Daylight Savings
Yes
Time Zones
8 (Newfoundland - Hawaii-Aleutian)
Sure Alarm
Yes
Wake Up
Yes
Battery Back-up for Time
Yes
USB Charging
Yes
PLL Digital Radio Tuner
AM/ FM
Radio Station Pre-sets
10 AM, 10 FM
Dual Alarm
Yes
Calendar Display
Yes
Indoor Temperature Reading
No
Adjustable Brightness
High, Low, Off, Auto
Sleep Timer
No
Battery Required
1 x 3V, CR2032 Flat Lithium Battery (included)
USB Charging Output
Single, 1.0 A
Speaker Size
2" 1.5W, 8 Ohms
Volume Indicator LED
Numerical display of volume value
Power Adapter Input
100-240 V, 50/60 Hz
Audio Inputs
None
Frequency Range (AM)
AM - 520-1710 kHz
Frequency Range (FM)
FM - 87.5-107.9 MHz
Power
DC 5.0 V, 1.2 A
Battery Backup
Yes
Projection
None
Projection Swivel Tilt
None
Number of Alarms
2 (week, weekend, weekday)
LCD Screen Size
4.8"
Alarm Options
Radio, Buzzer
Projection Flip
No
Projection Focus
No
Time/Date Restore
Yes
Dimensions
2.9 x 5.9 x 4.1 inches
Unit Weight
0.92 lbs
Unit Colour
Black
Certifications
FCC Certified
UPC
061783263679
What's Included
CR63 Clock Radio
Instruction Manual
1 x 3V, CR2032 Flat Lithium Battery (installed)
100V-240V (50/60Hz) AC Power Adapter
Lifetime Customer Support
1 Year Manufacturer's Warranty
Customer Reviews
Raleightom

March 23, 2019

North Carolina, United States

Just received. Early review!
Mine came pre-setup with battery active.
Went through setup procedure, just to be certain all worked. It did !
I am autistic & chronic complainer ! I have searched & searched and have found nothing to complain about.
The shipping was fast. The packaging was superb. The item was just as described on the Magnasonic web site. I got a good price at less than $15 (Guessing with discount and battery active; that it has been used - tested pre-sale to me).
I found all the details I needed pre-sale via the Manual pdf file on this web site.
This replaces a 20 year old alarm clock with fading sound, along with a very old, beat up many band (TV no longer functional) radio that has troubles with my favorite FM station Friday until Monday at during nighttime. Guessing they cut back power at station during those hours. Think it requires 6 type C batteries when power is off. That power outage radio function I will miss. Otherwise this Magnasonic replaces the functions of that pair that I used most and provides some new functions..

Time will tell; but, out of the box, I am very pleased with price, quality and functionality.

Alice N.

September 5, 2018

British Columbia, Canada

This is a great little alarm clock radio. Sounds pretty good too. Display is too bright , but being able to turn it off means I won't be returning it. The numbers get pretty hard to see but the big blue background can light up a room really well. Hence the 4 out of 5 stars.
I do love that it comes on low but ONLY climbs to the volume level you have it set at. My last alarm would come on low and blow the roof off the house if you didn't turn it off, regardless of the "set" volume.
All in all a great deal for the price.